State Rep. Randy Frye authored the legislation that would increase the number of baby boxes in the state.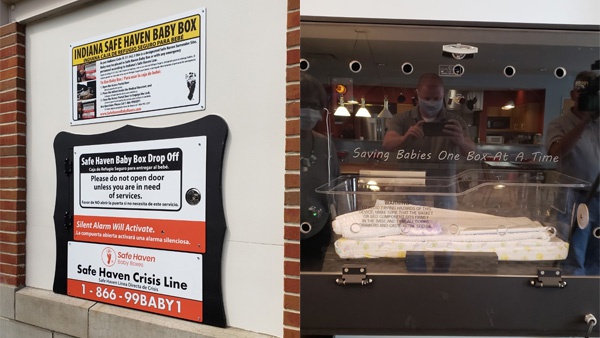 Safe Haven Baby Box located at the Lawrenceburg Fire Department. Photo by Travis Thayer, Eagle Country 99.3.
(Indianapolis, Ind.) – Indiana currently has 51 Safe Haven Baby Boxes statewide.
That number could see a significant increase if new legislation is passed into law.
State Rep. Randy Frye (R-Greensburg) has authored House Bill 1032, which would help increase the number of Safe Haven Baby Boxes across the state.
The House Committee on Veterans Affairs and Public Safety voted unanimously on Thursday in support of Frye's legislation.
Frye says his bill would make it easier for communities to install baby boxes. The bill would allow communities to install a baby box at a volunteer fire station located in a municipality with a full-time police department. The bill would also allow counties with professional emergency medical service providers with a 24/7 staffed facility to install boxes.
Just last year, the City of Lawrenceburg installed a Safe Haven Baby Box at the Lawrenceburg Fire Department on W. Tate Street.
Indiana's Safe Haven Law enables a parent to surrender an infant less than 30 days old to any hospital emergency room, fire station, police station or Safe Haven Baby Box within the state without fear of prosecution.
The baby boxes are temperature-controlled with an alarm system that alerts first responders when an infant is placed inside.
"This bill will help Indiana remain a leader in saving vulnerable, newborn infants and providing them a chance at life," Frye said. "My goal is for every county in the state to install a Safe Haven Baby Box, and this bill would take us one step closer to achieving that milestone."
House Bill 1032 now moves to the full House of Representatives for consideration.
RELATED STORIES
Safe Haven Baby Box Unveiled At Lawrenceburg Fire Department
Safe Haven Baby Box Installed At L'Burg Fire Department; Community Unveiling Thursday