These five individuals join 12 other volunteers who currently serve on the BCEF board.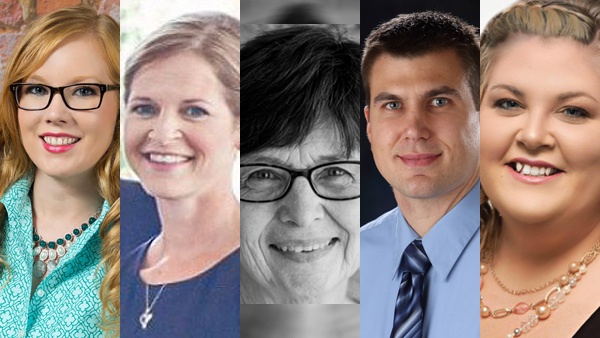 (Batesville, Ind.) – The Batesville Community Education Foundation (BCEF) is pleased to announce that Leacarol Bennett, Eric Benz, Sammie Hardebeck, Mindy Koehne, and Ashley Walls have been named to three-year terms on the BCEF Board of Directors.
"These five individuals bring a variety of backgrounds to our foundation board," said Anne Wilson, BCEF executive director. "Our foundation has grown a great deal in the past five years, and we strive to find the right balance of skills sets so that our mission to bring innovative programs to the Batesville Community School Corporation (BCSC) can be achieved."
Leacarol Bennett is a resident of Batesville who retired as a systems programmer/auditor from Western Southern Financial Group and as an adjunct faculty member at Ivy Tech Community College.
"I have always considered myself to be a life-long learner and what better opportunity than to be active on the board," Bennett said. "It is my desire to use my educational training to recognize the needs of all levels of education in our community. As a member of BCEF, I hope to make a difference by putting into action new innovations in education, as well as filling any needs gaps that may occur."
Hillrom software engineer Eric Benz resides in Sunman with his wife, Kimberly, and two sons Ryan and Alex.
"I am honored to be a part of BCEF and am excited about joining this great organization," Benz said. "We are fortunate to have a fantastic school corporation, thanks to the strength of our teachers, staff, parents, and volunteers. BCEF provides many differentiating learning opportunities for our school system and I am looking forward to contributing toward these initiatives."
Sammie Hardebeck is the Director of K-14 Initiatives and Recruitment for Ivy Tech Community College in Batesville. In this position, she serves as the liaison between Ivy Tech and Ripley and Franklin County high schools to maintain dual credit/dual enrollment partnerships. Additionally, Hardebeck assists high school students in earning intentional college credentials as they prepare for the workforce or transition to college after graduation.
"As a Batesville High School Class of 2007 alumna, I am excited to serve as a BCEF board member because I have a passion for education as well as strengthening alumni relations and providing new innovative opportunities to connect past, present, and future Bulldogs," Hardebeck said.
A Ripley County native and East Central High School graduate, Mindy Koehne resides in Batesville with her husband and four children. She works for a non-profit agency called Visually Impaired Preschoolers.
Koehne shares, "My adventures always lead me back to Batesville. When my husband and I decided to start a family, we knew we wanted it to be in small-town Indiana. Families, values, and community have provided many positive qualities for me, but the one I enjoy the most is giving back to others in my community. I enjoy working with children to help them fulfill their dreams by contributing my time and talents."
Ashley Walls is a realtor with Lohmiller Real Estate and was born and raised in Batesville, where she still resides with her husband Derrick and three children.
"I am so excited to join the BCEF Board and I look forward to working alongside my fellow board members to further their important efforts for our school system and the children in our community," Walls commented. "Having grown up in Batesville, the community and the school systems have always held a special place in my heart, but especially now that I have children of my own. I am humbled to be a part of BCEF's future and look forward to jumping in wholeheartedly to give back as much as possible."
These five individuals join 12 other volunteers who currently serve on the BCEF board: President Eric Fledderman, Vice President Kim Kick, Treasurer Brad Marcy, Secretary Jama Linkel-Cleghorn, Alex Dudley, Jenni Garrett, Lance Green, Alex Henkle, Ryan Holcomb, BCSC Superintendent Paul Ketcham, Cathy Martini, and Matt Moore.