It took hours for firefighters to put out the intense blaze at French's Locker.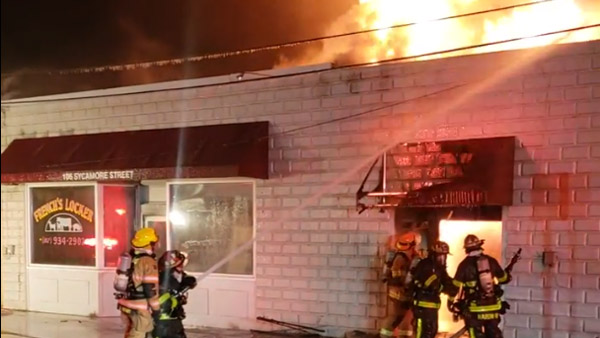 Video still from French's Locker Facebook.
Update published Thursday, March 7:
More details have been released about Wednesday night's fire at French's Locker in Batesville.
According to Batesville Fire and Rescue, the fire was reported at 11:46 p.m. when nearby residential neighbors discovered smoke in their basement, which was coming from French's Locker on Sycamore Street.
Upon arriving at the scene, firefighters found heavy smoke coming from the eaves and the roof of the business. Once inside, firefighters discovered a heavy fire coming from the center of the building.
No occupants were found inside the structure, but one firefighter overcome with hypothermia had to be transported to Margaret Mary Health for treatment. No other injuries occurred.
"I really want to thank the neighboring departments who responded and provided assistance during the fire," said Chief Schutte. "The response by our mutual aid partners helped limit the spread of the fire and this serves as an example of why these partnerships are so important."
Batesville Fire and Rescue were assisted at the scene by Sunman Rural Fire Department, Oldenburg Eagle Fire Company and Morris Volunteer Fire Department.
Firefighters had the blaze contained by 3:30 a.m. on Thursday and remained on site until 8:30.
A cause remains under investigation.
Original story published Thursday, March 7:
(Batesville, Ind.) - A Batesville business was destroyed by a fire overnight.
A fire started late Wednesday night at French's Locker, a meat processor and butcher shop on Sycamore Street. The fire was believed to have been burning for some time before it was discovered.
Fire departments from Batesville, Morris, Oldenburg, and Sunman responded to put out the blaze.
A cause of the fire has not been released.
French's Locker says it will keep serving customers from their other location, Westport Locker in Westport, Indiana.