Police say a victim had their purse stolen while at Walmart on September 2.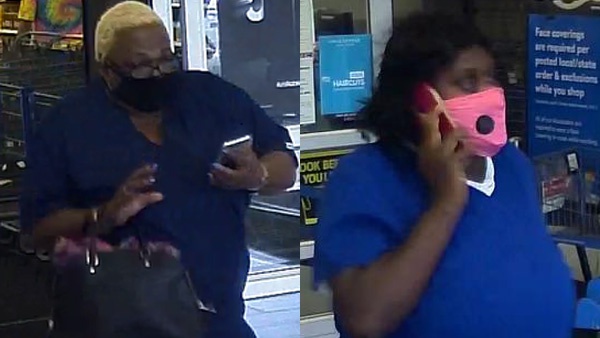 Can you help police identify these two women? Photos by Aurora Police.
(Aurora, Ind.) – Aurora Police are asking for the public's assistance in identifying two theft suspects.
On September 2, Aurora Police received a report of theft and credit card fraud. Police say the victim had her purse stolen while shopping at the Walmart Supercenter on Sycamore Estates Drive.
The victim's credit card was then allegedly used at a Walgreens store, totaling over $1,329.92.
After a review of security video revealed two subjects possibly connected to the theft and credit card fraud.
Suspect one is described as a black female, heavy build, and 40 to 50 years of age. She was wearing a red and white scarf around her head, a black facemask, a purple color scrub shirt with matching pants and black shoes. The suspect was also wearing glasses with dark color frames, a silver color watch on her left wrist, and a ring on her right hand. She was later observed without the scarf on her head, which revealed that she had bleached blonde hair.
The second suspect is described as a black female, heavy build, mid-20's to mid-30's, with shoulder length black hair. She was wearing a pink color facemask with a black circular shaped filter on the right side, a royal blue short sleeve scrub shirt, matching pants, a white undershirt and black and white tennis shoes.
Police say the suspects were operating a silver minivan. The make and model of the vehicle is unknown.
Anyone with information about the suspects or suspect's vehicle should contact Aurora Police at 812-926-1101.