Several agencies assisted at the scene on Saturday evening.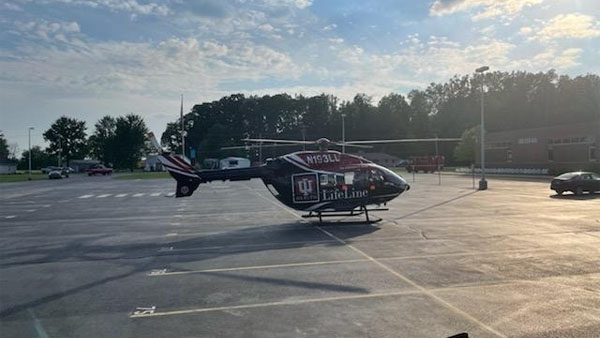 Photo by Napoleon Volunteer Fire Department.
(Osgood, Ind.) - An Aurora man was injured in a single vehicle crash near Jac-Cen-Del High School.
Ripley County Sheriff's deputies responded to the crash in the area of U.S. 421 on Saturday around 6:20 p.m.
Deputies say Jerald L. Powell, Jr., 48, was traveling northbound on U.S. 421 when his vehicle ran off the east side of the road and crashed into an embankment.
Powell was found unconscious and entrapped in his vehicle.
He was extricated and transported to IU Health Methodist Hospital in Indianapolis with unknown injuries.
Witnesses told investigators that Powell was driving erratic, speeding up and slowing down, and crossing the centerline prior to the crash.
The accident remains under investigation.
Assisting at the scene was Ripley County EMS, Ripley County Medic, Osgood Fire Department/First Responders, Napoleon Fire Department/First Responders, LifeLine Medical Transport, and Meyers Marathon.