The two-day event happens this Friday and Saturday.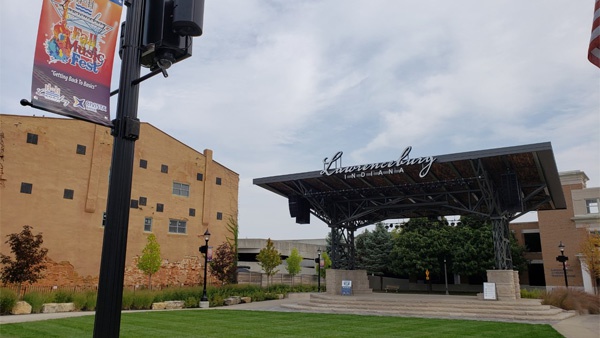 Lawrenceburg Fall Music Fest happens Friday, September 25 and Saturday, September 26 in the Civic Park. Photo by Travis Thayer, Eagle Country 99.3.
(Lawrenceburg, Ind.) - Lawrenceburg Fall Music Fest is getting back to basics.
The two-day event will run Friday, September 25 and Saturday, September 26. The weather forecast is looking great for both days with partly sunny skies and a high of 80 on Friday and mostly sunny skies with a high of 83 on Saturday. Overnight lows will be around 60 degrees making it feel very fall-like.
Mayor Kelly Mollaun stopped by Eagle Country 99.3 on Wednesday to preview the event and make a few announcements.
"We look for a nice crowd," said Mollaun. "We look for a nice event this weekend. Some good entertainment, some great entertainment actually. I think we are going to see a really nice event going on. If you get a chance to come down, everybody outta' come down."
Friday's festivities will begin at 5:00 p.m. with the opening of the beer garden. Much like Summer Fest, the beer garden will encompass the entire Civic Park. The music will start at 6:00 p.m. with a performance by The Renegades. LIVE WIRE - The ULTIMATE AC/DC Experience will follow at 7:25, then headliner David Victor (formerly of Boston) takes the stage around 9:00 to perform hits of Boston and Styx.
Saturday will be more of an all day event. The annual Fall Fest Car Show begins at 10:00 a.m. Registration for the car show will run through noon.
The beer garden opens at 11:00 a.m. Saturday, then Rick K. Road Trip 2020 hits the Civic Park stage at noon. Following their performance, P.G. Gentrup will lead the Veteran's Presentation at 2:00 p.m. Then car show awards.
Music starts back up at 5:00 p.m. with Jessie Strassell, followed by the Indiana MudBugs at 6:00.
Vegas McGraw will pay tribute to Tim McGraw at 7:25, then headliner and country music star Jimmie Allen hits the stage around 9:00.
Food trucks will be on-site both days, plus dining is available at downtown Lawrenceburg restaurants.
As for seating, a limited number of attendees will be permitted to bring chairs into the event. However, attendees will not be allowed to place their chair at the Civic Park prior to the event, as seen during Music on the River events. In addition, no coolers or pets are permitted.
"We are going to have a limited area for chairs," said Mollaun. "You cannot come at seven AM and put your chairs out and expect them to be there when you come back. We are going to let as many people in as we can that have chairs until the area fills up. Then we'll have to turn people away. We are trying to make it as accessible for as many people possible to be there for the concert. We understand that some people have to sit, so we are going to try it with a limited area. Maybe next year we'll try something different."
HEAR DOUBLE T'S FULL INTERVIEW WITH MAYOR MOLLAUN IN THE AUDIO PLAYER BELOW
Speaking of next year, it appears that Lawrenceburg Fall Fest will continue to be held in the Civic Park, while the carnival portion of the event will likely be included during Lawrenceburg Main Street's annual Kid's Day Event.
"Fall Fest as we knew it was a great event for many years, but it was time to sort of get back to basics," said Mollaun. "This will be the first year for this, so time will tell, but we feel pretty good about it."
For more information on Lawrenceburg Fall Music Fest, visit www.thinklawrenceburg.com.
Information about street closures is listed below.
From 7:00 p.m. Thursday to Saturday at 11:30 p.m.
E. High Street between Eagle Country 99.3 alley to alley between Short Street and Elm Street
Short Street between New Street to William Street
New Street between Walnut Street and the alley between Short Street and Elm Street
Short Street access to parking garage closed
Saturday only for car show from 7:00 a.m. to 4:00 p.m.
Walnut Street between Center Street to New Street at the Event Center
E. High Street between Eagle Country 99.3 alley to W. High Street at the Courthouse
Walnut Street access to parking garage will be closed during the car show
Access to parking garage located at E. High Street and Elm Street