Lola Sells is now serving a total of 39 years in the Indiana Department of Corrections.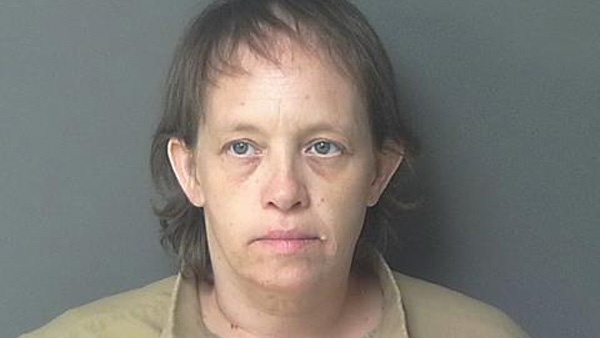 Lola Sells. Photo by Franklin County Sheriff's Department.
(Brookville, Ind.) – A woman who pleaded guilty to participating in a multi-state meth ring has been sentenced to the maximum 16 years.
It's just the latest prison sentence for Lola Sells.
Sells, 52, of St. Paul, Indiana, was sentenced February 20 in Franklin County Court to 14 years in prison followed by two years of probation. She had earlier pleaded guilty to Conspiracy to Deal in Methamphetamine (level 3 felony).
The sentence stacks on top of two other sentences of 20 years and 10 years, for a total sentence of 39 years in prison and seven years on probation.
In one of those earlier cases, Sells was convicted of providing meth to a woman who died shortly after ingesting the drug during a traffic stop by Indiana State Police on Interstate 74 in 2014. The victim had purchased the drug from Sells and was transporting it to her boyfriend.
The investigation into the conspiracy case was spearheaded by Indiana State Police Detective Tim Wuestefeld, who also led the investigation of Sells in the overdose case. Rushville Police and the Franklin County Sheriff's Department assisted.
According to the probable cause affidavit, the investigation began in February 2016 with controlled drug-buys in Franklin County. After several months of surveillance, a meth-related traffic stop in Rushville on May 12, 2016, provided officers with cause to apply for search warrants that were executed in various Franklin County locations. Subsequent cell phone data and suspect interviews revealed to the investigators that several co-conspirators from southeastern Indiana were making weekly trips to Macon, Georgia, to obtain as much as 36 to 48 ounces of meth and bringing it back to this area.
Because there are still pending cases involving co-conspirators, Huerkamp declined to comment further on the allegations, and emphasized that the remaining defendants are presumed innocent until proven guilty.
The prosecutor did, however, want to single out the efforts of Det. Wuestefeld and Rushville Officer Alex Shaver in particular.
"Thanks to the incredible dedication and hard work of these officers, a career drug dealer will be in prison for a very long time," he said.
RELATED STORIES:
Fatal Meth Overdose Brings 20 Year Prison Sentence
Jury Convicts Dealer Who Sold Meth To Woman Who Ate It, Died
Prosecutor: Franklin County Meth Was Being Supplied From Georgia