Conley's mother also wants him to get out of prison someday.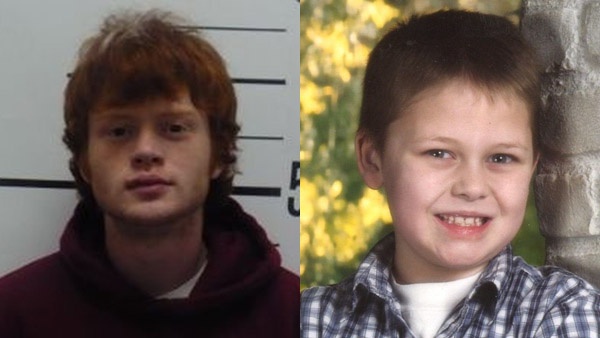 Andrew Conley (left) is appealing a life in prison sentence for the 2009 murder of his 10-year-old brother, Conner Conley.
(Rising Sun, Ind.) - Convicted sibling murderer Andrew Conley wants a reduction in his life sentence.
His mother, changing from her stance nearly a decade ago, would also like him to walk free at some point.
Conley was just 17 when he strangled his 10-year-old brother Conner in their Rising Sun home as their parents were at work in 2009. The teen covered the boy's head in a plastic bag, then moved the body to a wooded area near the city park. The next day, he walked into the local police department and confessed the crime.
In 2010, Conley pleaded guilty on the first day of the murder trial and received a sentence of life without parole for the fratricide. He's been serving that punishment at the Pendleton Correctional Facility.
Conley appealed the sentence to the Indiana Supreme Court, which affirmed the life without parole sentence even though he was only 17 at the time of the killing.
Attorneys for Conley are now trying other avenues to give him a chance of seeing freedom at some point in his adult life. One of those ways is a change of heart by Conley's mother.
In an amended pro se petition for post-conviction relief filed in Ohio County Circuit Court on October 12, public defenders Kathleen Cleary and Deidre Eltzroth argue that Bridget Conley has a right to be heard.
"Bridget Conley, the mother of (Andrew) is also the mother of Conner and is therefore considered the victim in this case… She has a right to be heard at Conley's evidentiary hearing as to her position on his sentence. She will tell the court that she has changed her position on Conley's sentence, and she wants him re-sentenced to a term of years," Cleary and Eltzroth state.
The attorneys also contend that Conley's rights to effective legal counsel were violated.
Specifically, the attorneys say Conley was denied right afforded under the Sixth and Fourteenth Amendments of the U.S. Constitution, as well as several sections of the Indiana Constitution.
The attorneys say Conley should have been advised by his 2010 trial counsel on the first day of the trial that he should plea guilty rather than present an available defense that he was guilty but mentally ill. That advice and Conley's plea, they argue, was based on a false premise that Conley could not receive a life in prison sentence.
"Conley's guilty plea was not knowing, intelligent or voluntary violating his rights," the attorneys wrote in the petition. "Counsel performed deficiently by advising Conley to plead guilty in a proceeding which afforded him no sentencing benefit and effectively waived his right to a jury determination of his penalty."
The petition also takes issue with Conley's trial attorney not sufficiently cross-examining a pathologist and psychologist who testified at the sentencing hearing.
"Materially inaccurate information used to sentence Conley to life without parole includes information that he was a sociopath or psychopath, had sociopathic symptoms, that the victim was alive at the time the plastic bag was applied, and that the victim suffered a sexual assault," Cleary and Eltzroth conclude.
Arguments will be heard in Ohio County court in December. The hearing could last more than a week as Conley's appellate attorneys are planning to have multiple witnesses, including Bridget Conley, a psychologist, and a pathologist.
Dearborn-Ohio County Prosecutor Lynn Deddens said the state will fight any change in Conley's sentence.
"We intend to vigorously defend the just sentence imposed by circuit court in 2010. His actions were just as heinous in 2010 as they are today," said Deddens.
The prosecutor said she may also call witnesses to testify in favor of the life sentence.