Damar Hamlin is back in Buffalo thanks to a group of paramedics that rushed to his aid on January 2.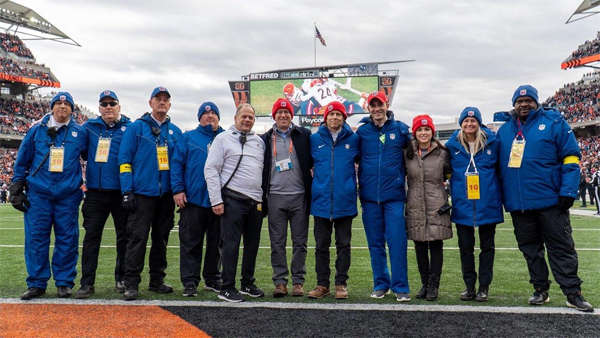 Rob Hursong (third from the left) with other medical personnel that helped Damar Hamlin. Photo courtesy the City of Harrison.
(Harrison, Oh.) – A local fire chief played a role in saving the life of Buffalo Bills safety Damar Hamlin.
Hamlin collapsed on the field during a Monday Night Football contest against the Cincinnati Bengals on January 2. Following the injury, it was reported that Hamlin suffered sudden cardiac arrest.
The emergency response team at Paycor Stadium, which included Harrison Fire Chief Rob Hursong, played a pivotal role in saving Hamlin's life.
According to a report from the City of Harrison, Hursong moonlights for UC Health as a paramedic on the special events team, which put him in a high pressure situation when Hamlin went down on the field.
Thankfully, Hursong and other medical personnel in the stadium were able to do what was needed to aid Hamlin and get him to UC Medical Center, where he was discharged two weeks ago.
Hursong's line of work doesn't always get the recognition it deserves, according to his daughter, Karlee. But she knows her dad is a hero.
"My dad has been saving lives since before I can remember. I was raised knowing that he was a hero, not only to my family, but to families that wouldn't always know his name. I think it's amazing that millions and millions of people were able to find out my dad is a hearo, and I'm so proud that Damar and his family, friends and fans were able to see him as a hero because I've been luck enough to know that he's been mine my entire life," Karlee said in a public Facebook post.
The work of Hursong and other medical personnel garnered special recognition at Paycor Stadium, a recent UC basketball game, and even from NFL Commissioner Roger Goodell.
For more information, visit click here.