The water tower is proclaimed as the most famous in Indiana.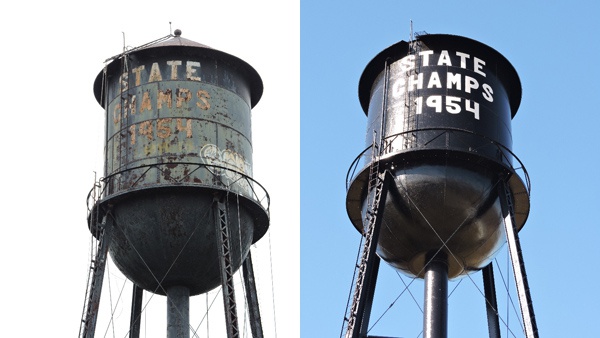 The Milan water tower before (left) and after (right) it's renovation. Photos provided.
(Milan, Ind.) - The historic Milan, Indiana Water Tower proclaiming "State Champs 1954" has received a new facelift. Constructed in 1924, the most famous Water Tower in Indiana has proclaimed Milan's 1954 Indiana High School Boys Basketball State Championship since the mid 1950's.
A $28,452.00 grant from the Rising Sun Regional Foundation provided the bulk of the funding to the town of Milan for the project while a collection jar placed in a local Milan liquor store provided an additional $1,091.85.
"We are very proud to be able to restore this iconic water tower for the community of Milan and the people of Indiana," said Milan Town Board President Noel Houze. "This is something that we have wanted to do for a long time."
Last painted in 1969, the tower once provided fire protection for the long closed Milan Furniture Company. The Town of Milan acquired the tower in 2011 in the hopes of preserving part of Milan's history. In recent years the tower was showing its age.
In 2017 the Town of Milan, in conjunction with the Milan '54 Hoosiers Museum, began efforts to restore the tower. Newly painted in black with white lettering, the tower is also now lighted nightly for the first time ever.
The tower is located just outside of Milan's downtown district next to the railroad tracks.