The first two days of Farmers Fair will feel like summer, but the final two days should be just about perfect.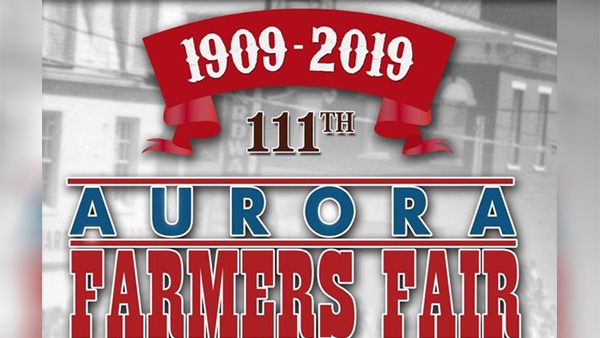 (Aurora, Ind.) - When you think of Aurora, often times the first thing that comes to mind is the Aurora Farmers Fair.
What started in 1908 as an agricultural show, has grown into a four-day event filled with a parade, rides, games, food, live music, and much more.
The 111th Aurora Farmers Fair gets underway Wednesday, October 2 and runs through Saturday, October 5. This year's theme is "Celebrating Aurora's 200 Years."
Wednesday's festivities will begin with the opening of the midway at 5:00 p.m. Steve Brooks & The Bootleggers and Travis Bowlin will provide live music, in addition to the King and Queen contest.
On Thursday, a War Veterans presentation will take place at 6:05 p.m., followed by the Grand Marshal presentation. This year's Grand Marshal's are J.D. Largent, Robert L. Cheek Jr., John E. Borgman, Richard M. Ullrich, and Donald W. Hastings Jr.
Thursday will also feature live entertainment from the Triumphant Quartet, Pappy & Ted's Excellent Unplugged Adventure and Lexy Dunn.
The midway opens at noon on Friday and will stay open until 10:00 p.m. The popular Pet Parade takes place at 2:15 p.m. and the Van Dells will hit Stage 1 at 8:30 p.m.
The highlights on Saturday include the Farmers Fair Parade from 10:00 a.m. to noon, followed by the opening of the midway. Live music will be provided pretty much all day Saturday by the likes of D.J. Adkins, Abbi Love, Bogus Hollow, The Skallywags and country music star Mark Wills.
Advanced discount rides tickets are available through Friday at Civista Bank in Aurora and Milan, Sign A Rama, Dearborn Savings Bank, Personally Yours in Aurora, Friendship State Bank in Lawrenceburg, First Financial in Aurora and Gillman Home Center.
Eagle Country 99.3's Travis Thayer will broadcast live from the fair Wednesday-Friday from 2:00 p.m. to 5:30 p.m. Find him near the Aurora Lions Club to register for great prizes.
To see a full schedule of Farmers Fair events, visit www.aurorafarmersfair.org.