The All-Eastern Indiana Athletic Conference softball players were announced Wednesday.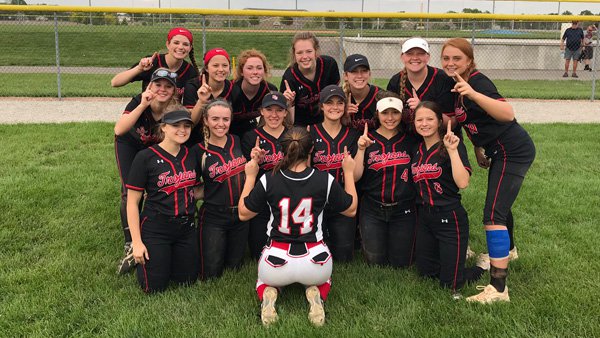 East Central won the 2019 EIAC Softball Championship with a 14-0 conference record. They put five players on the all-conference team this season. Photo courtesy of East Central Softball, Twitter.
(St. Leon, Ind.) – Conference champions East Central placed five players on the Eastern Indiana Athletic Conference All-EIAC softball team.
The all-conference fast-pitch selections by conference coaches were announced Wednesday.
Connersville's Jeri Ellis was named the 2019 EIAC Softball Most Valuable Player. The Spartans senior outfielder/pitcher is heading to Grace College in Winona Lake, Indiana to play next year. In her senior season, Ellis hit .471 with 40 hits, 37 RBI, 7 home runs and 11 doubles. As a pitcher, she earned 13 wins with 114 strikeouts and a 2.94 ERA in 126 innings pitched.
East Central ran the table 14-0 in conference play to win the EIAC title this season – the first time the team has done that since 2010. Leading the way for EC were all-EIAC players Lindsay Henson, Carson Beckett, Jessica Kincer, Megan Kincer, and Natalie Schnell - all sophomores.
Trojans coach Steve Coffman was named the conference's softball coach of the year.
The complete list of 2019 All-EIAC Softball players is below:
East Central 14-0
Lindsay Henson
Carson Bennett
Jessica Kincer
Megan Kincer
Natalie Schnell
Connersville 12-2
Allison Woytik
Paige Dunaway
Ashley Ruble
Jeri Ellis - MVP
South Dearborn 9-5
Graci Cornett
Alexis Dittmer
Cameron Hoskins
Greensburg 7-6
Melina Wilkison
Rose Morrison
Bailey Springmeyer
Rushville 5-9
Kara Chandler
Kendra Hamilton
Franklin County 4-9
Camryn Brewer
Abby Orschell
Batesville 3-11
Kylie Laker
Lawrenceburg 1-13
Meghan Lawrence