With high expectations, the Tigers hope to do better than 11-2 in 2021.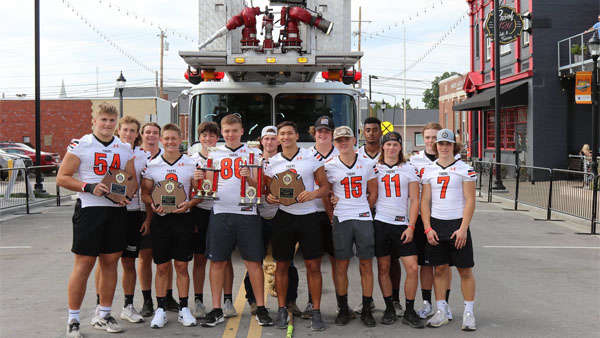 The Lawrenceburg Tigers were well represented at last weekend's annual Fire Truck Pull to benefit Special Olympics Indiana - Ripley Ohio Dearborn Counties.
(Lawrenceburg, Ind.) - Expectations are high in Tiger Town.
The Lawrenceburg Tigers will begin the 2021 season as the #2 ranked team in Class 3A. It is a worthy ranking for the Tigers, coming off an 11-2 season that saw them win the EIAC 3A Division and a second-straight sectional championship.
"Overall we were really pleased with how the 2020 season went. We were very fortunate to play every game," said Coach Ryan Knigga. "When I go back and look at the 2020 season, it was very successful. We were able to capture another conference championship as well as our 20th sectional championship in program history."
The 2021 version of the Tigers will return many familiar faces including All-State offensive lineman and Notre Dame commit Ashton Craig, four-year starting quarterback Garrett Yoon, and his top two pass catchers from last season, Dahya Patel and Aiden Gilmour.
"Preseason polls are preseason polls but at some point you look at them and it gives you an idea of what coaches and the media think of your team," said Knigga. "I know and our team knows that some of that is based off of what we did last year, but they also base some of that stuff on what you have returning. And we have a great group of guys returning that have played a lot of varsity football. We also have guys that are really good football players, and we also have good role players around those really good football players."
Key Losses:
Adam Burd (RB): 166 carries, 1,008 yards, 9 TD; Baldwin
Ethan Parris (OL/DL): University of St. Francis
Brayden York (OL/DL): Marion University
Noah Rowlett (LB): University of St. Francis
Joey Hibbard (K): Thomas More University
Dakota Roth (WR/DB/P): 27 receptions, 313 yards, 2 TD
Top Returners:
Garrett Yoon (QB): 152-243 (63%), 2,252 yards, 27 TD, 9 INT; 146 carries, 1,083 yards, 14 TD
Ashton Craig (OL/DL): Notre Dame commit
Dahya Patel (WR): 59 receptions, 1,118 yards, 11 TD
Aiden Gilmour (WR/CB): 29 receptions, 548 yards, 11 TD
Jayce Bohan (S): 66 tackles, INT
Luke Pierce (LB): 62 tackles
Brennan Bushman (WR/CB): 2 INT
Luke Pierce (RB/S): 61 carries, 414 yards, 10 TD; 60 tackles, INT
Colton Roth (OL/DL)
Micah Foster (OL/DL)
Alex Witte (LB): 49 tackles, 4 TFL
Lance Bates (TE/DL)
Potential Breakout Stars/Newcomers: Jackson Goodall (OL/DL), Niko Ferreira (LB), Noah Knigga (LB), Teagan Bennett (RB), Logan Howell (HB), Hayden Saylor (WR), Brayden Combs (WR), Ryan Hinthorne (K), Sam Cornett (LB).
In recent years, the Tigers have been explosive on offense. Last season, they averaged 411 yards and 38.2 points per game.
Garrett Yoon is coming off back-to-back 2,000 yard passing and 1,000 yard rushing seasons. He will be complemented in the backfield by running backs Luke Pierce and Teagan Bennett. Coach Knigga also plans to sprinkle in freshman Logan Howell at H-Back.
Patel and Gilmour will be Yoon's top two receiving targets, but Brennan Bushman, Hayden Saylor, and Brayden Combs are expected to contribute down the field.
The offensive line will once again be anchored by Ashton Craig. The 6'5" 285 pound senior will flip from right tackle to left tackle. South Dearborn transfer and All-State tackle Jackson Goodall will fill the right tackle position with the likes of Colton Roth, Logan Lange, Micah Foster and Braydon Watkins blocking inside.
"We just want to build off what we did last year," said Knigga. "The good news is a lot of guys know our system. So right now its a lot of refining and remind them about how we want to do things. It seems to be clicking and moving faster right now and that's because we have a lot of veteran guys."
Defensively, the Tigers allowed 16.3 points per game in 2020.
One of the bright spots of the defense is the secondary. Aiden Gilmour and Brennen Bushman are back at cornerback with Jayce Bohan and Luke Pierce at safety. The four of them combined for eight interceptions in 2020. Ethan Gabbard is also expected to rotate in the secondary.
Other returning starters on the defense include Craig at defensive end and Jacob Pierce and Alex Witte at linebacker.
Micah Foster, Colton Roth, Jackson Goodall and Lance Bates will fill out the defensive line, while East Central transfer Niko Ferreira and freshman Noah Knigga will get looks at linebacker.
The Tigers will also feature a new place kicker in 2021. Ryan Hinthorne takes over as a freshman. "He has a dynamic leg and is only going to get better", said Knigga.
"I like our guys and I think we have depth at certain positions," Knigga added.
Lawrenceburg will begin their season on Friday when they host the East Central Trojans (#6 in Class 4A). The Tigers have not defeated East Central since 1992. That hasn't stopped Lawrenceburg from putting together excellent seasons. Since the rivalry was renewed in 2017, the Tigers have had three, 11-win seasons, which all ended with sectional championships. The regional round has not been kind to the Tigers during that span, going 0-3.
While conference and sectional championship remain big goals for Lawrenceburg, they have bigger goals they want to accomplish in 2021.
"We talked about changing our best. Right now our best is 11-2 and getting beat in the regional, so our kids are focused in on that and want to change that."
2021 Schedule
*Via indianahsfootball (homestead.com).