Rowlett and Ethan Parris will team up at the collegiate level.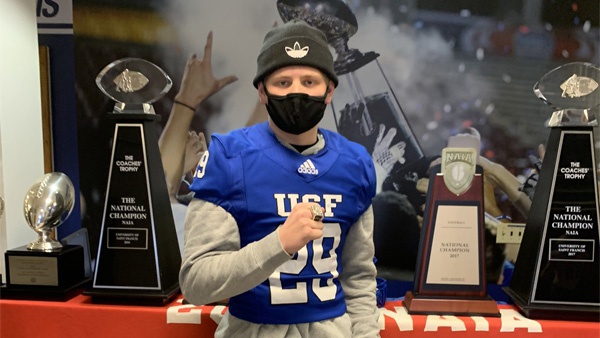 Photo by USF Football.
(Lawrenceburg, Ind.) - Another Lawrenceburg Tiger has signed to play college football.
On Wednesday during National Signing Day, senior linebacker Noah Rowlett committed to the University of Saint Francis in Fort Wayne.
Rowlett made 128 career tackles for the Tigers, including 50 tackles as a senior.
At 6'3", 195 pounds, Rowlett also played tight end for the Tigers. He was often used as an extra blocker, but did record four career receptions for 46 yards.
Rowlett joins fellow senior Ethan Parris as a member of the USF recruiting class of 2021.
Locked in and loaded. 🔒

Welcome to the fort, @noahrowlett1329

Hudl: https://t.co/9gGsfx6N3W#ProtectTheFort21 | #FillYourBucket pic.twitter.com/vC7vIYx948

— USF Football (@USF_Football) February 3, 2021
Congratulations @noahrowlett1329! https://t.co/Mq5TXBtIWv

— Ryan Knigga (@lhstigercoach) February 3, 2021
RELATED STORIES
Lawrenceburg Football Star Commits To Saint Francis