More than 250 people enjoyed a beautiful morning to run and walk in the Lauren's Burg Hill 5 Mile and 5K Race on Saturday.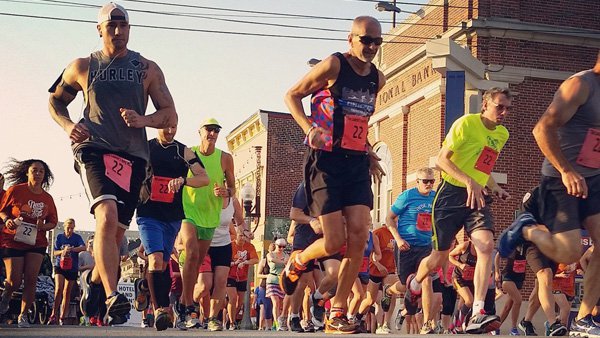 Runners take off for the 4th Annual Lauren's Burg Hill 5 Mile Race on Saturday, June 16. Photo by Mike Perleberg, Eagle Country 99.3.
(Lawrenceburg, Ind.) - More than 250 people ran and walked in memory of Lauren Hill on Saturday.
The 4th Annual Lauren's Burg Hill 5 Mile and 5K race took place in Lawrenceburg. The late Lauren Hill's mother and father, Lisa and Brent, were present at the starting line.
The race raised money for the Lauren's Fight For Cure organization to assist families of children with brain cancer.
"It was a very successful event. It's a great partnership with the City of Lawrenceburg," says race organizer Mark Knigga. "We're looking to make quite a bit of money for the foundation."
The five mile race was won by Greendale resident Justin Noppert, 42, in exactly 32 minutes. The top female and in second overall was Diana Filtz, 28, of Cincinnati, at 35:21. The challenging course treks up the big Bielby Road hill and down the State Road 48 incline.
The 5K (3.1 mile) overall title was taken by 17-year-old Zachary Kozlowski, of Lawrenceburg, in 22:05. Alisha Detmer, 14, of Patriot, was the top female in crossing the finish line in 25:01.
Full race results can be found at Stuart Road Racing's website.
All racers crossed the finish line at the 22-yard line at the football field at Lawrenceburg High School, where Lauren Hill played basketball and graduated at the time she was diagnosed with terminal brain cancer. She later went on to play college basketball for Mount St. Joseph University - inspiring millions who heard of her story - before passing away from DIPG in 2015.
Knigga said planning for a fifth annual race for June 15, 2019 has already begun.