Winning this particular tournament was a goal the team set back in December.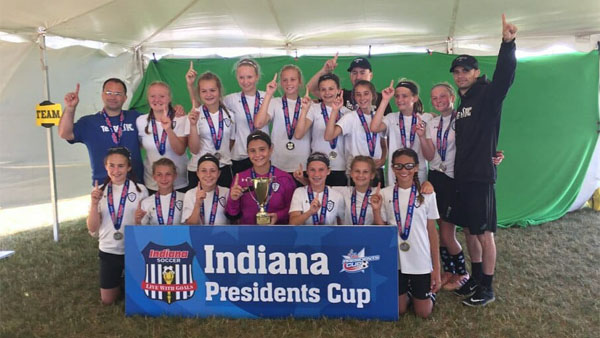 Tempest Shockers U14. Photo provided.
(Undated) - Back in December the players on the Tempest Shockers U14 soccer team made a lofty goal of winning the Indiana Presidents cup title. This past weekend, that goal became reality.
On a journey that began in April, Tempest competed in the preliminary rounds of the Presidents cup posting a 3-0-1 record to advance to the State Championship on June 3 at Grand Park in Indianapolis.
In the final game, the Shockers came out fast and dominated possession of the ball. Two early scores on laser shots by Lexi Watkins gave Tempest a 2-0 halftime lead. The defense would dominate the remainder of the game allowing only 2 shots in the second half for a final score of 3-0 and the U14 State Championship.
Tempest will now advance to the Midwest Regional next weekend and represent the State of Indiana where they will play Iowa, Wisconsin and Missouri in preliminary play. Tempest enters as one of the top seeds and is looking to advance to their final season goal of a National Championship.
The Shockers (23-0-1) are currently unbeaten in the spring 2018 season and have recorded shut-outs in sixteen of those matches
The Tempest Shockers include Ashtyn Gindling, Reagan Horn, Emma Davis, Olivia Hopper, Myah Boze, Jayden Wilson, Grayson Drew, Lexi Watkins, Abby Lane, Emma Deters, Abby Welch, Kami Cheek, Brooklynn Ward, Juliet Strange, Chloe Faught and Mia Howard. The Shockers are coached by Chris Hopper, Keith Cheek and Sean Wilson.