See a full list of top performers in the ORVC for the week of September 23-28.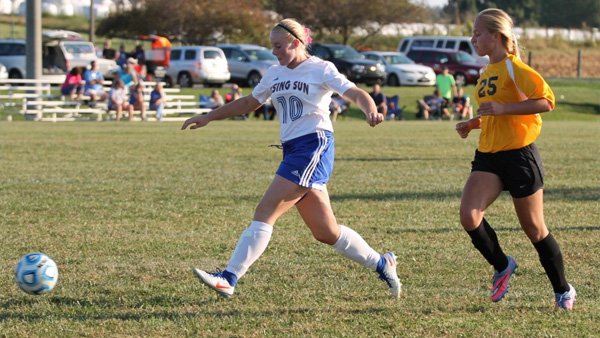 (Rising Sun, Ind.) - The Ohio River Valley Conference has named its top players for the week of September 23-28.
Milan's Jennifer Barker is the ORVC Volleyball Player of the Week. Barker played excellent against Shawe Memorial with 92 percent pass accuracy, 82 percent serve accuracy, 57 digs and three aces.
The ORVC Boys Soccer Player of the Week is shared by Jac-Cen-Del's Tim Defane and Southwestern's Brandon Smith.
Defane scored three goals and had an assist in two matches. Smith scored four goals in four matches, including a hat trick against Switzerland County.
Rising Sun's Sydney Pitts is the ORVC Girls Soccer Player of the Month after scoring six goals in two matches.
The ORVC Runners of the Week are Switzerland County's Alisha Detmer and Jac-Cen-Del's Damon Hughes.
Other top performers for the week of September 23-28 are listed below.
VOLLEYBALL
Elle Ford (SW) 32 kills, 5 blk, 91% serve, 5 aces in 6 matches
Marissa Naylor (SW) 23 kills, 92% serve, 6 aces, 88% pass, 51 digs in 6 matches
Ashleigh Ream (SW) 87% serve, 6 aces, 88% pass, 78 digs in 6 matches
Lindsey Meyer (SR) 18 kills, blk, 93% pass, 6 digs, 100% set, 2 KA's last week
Halee Smith (SR) 6 kills, blk, 90% pass, 7 digs, 100% set, 2 KA's last week
Rachel Meyer (SR) 6 kills, blk, 90% pass, 5 digs, 100% set, 2 KA's last week
Sophia Thomas (M) 18 kills, 96% serve, 2 aces, 88% pass, 8 digs vs. Shawe
Karly Sargent (M) 19 kills, 2 blks vs. Shawe
Shaylee Volz (JCD) 100% serve, ace, 7 digs, 100% set, 2 KA's vs. Madison
McKenzy Gray (JCD) 3 kills, 100% serve vs. Madison
Shai Schmeltz (JCD) 100% serve, 70% set, 12 digs vs. Madison
Lina Leatherman (SM) 40 kills, 5 blk in 6 matches
Phoebe Grote (SM) 91% serve, 5 aces in 6 matches
Cora Poling (RS) 24 kills, 2 blk in 2 matches
Shelby Stogsdill (RS) 97% serve, 7 aces in 2 matches
Kassidy Romans (RS) 91% pass, 19 digs in 2 matches
Kierstan Oeffinger (SC) 11 kills, 5 aces, 52 digs in 3 matches
Ally Furnish (SC) 22 kills, 7 aces, 46 digs in 3 matches
Nora Hankins (SC) 14 kills, 6 digs in 3 matches
GIRLS CROSS COUNTRY
(Name Time Location)
Keira Mann (RS) 28:03 Pumpkin
Alisha Detmer (SC) 21:53 / 22:45 Silver Creek / Duke Meyer
Gracie White (SC) 22:03 / 22:20 Silver Creek / Duke Meyer
Allison Detmer (SC) 25:44 / 27:29 Silver Creek / Duke Meyer
Lanie Nicholson (SR) 19:43 Pumpkin
Emily Campbell (SR) 20:25 Pumpkin
Deborah Murphy (SR) 20:54 Pumpkin
Cloey Simon (JCD) 24:08 / 21:06 Law'burg / Pumpkin
Kayla Simon (JCD) 25:10 / 21:29 Law'burg / Pumpkin
Kaytlin Sizemore (JCD) 25:26 / 24:38 Law'burg / Pumpkin
Hannah Sims (SW) 22:36 Pumpkin
Ashton Goode (SW) 22:44 Pumpkin
Kirsten Geary (SW) 22:48 Pumpkin
Calli Alderman (SM) 22:08 Silver Creek
BOYS CROSS COUNTRY
(Name Time Location)
Dalton Vinup (RS) 17:56 Pumpkin
Peyton Merica (RS) 19:10 Pumpkin
Grant Taylor (RS) 19:10 Pumpkin
Julio Regueira Prats (SC) 18:52 / 19:36 Silver Creek / Duke Meyer
Nathan Furnish (SC) 20:48 / 19:39 Silver Creek / Duke Meyer
Keith Gober (SC) 24:51 Silver Creek
Nick Zigan (SR) 18:46 Pumpkin
Hayden Hooten (SR) 18:56 Pumpkin
Ryan Gorrell (SR) 19:14 Pumpkin
Damon Hughes (JCD) 18:42 / 16:42 Law'burg / Pumpkin
Todd Menchhofer (JCD) 19:29 / 18:05 Law'burg / Pumpkin
Josh Pohle (JCD) 19:38 / 17:48 Law'burg / Pumpkin
Trevor Smith (SW) 16:45 Pumpkin
Gavyn Mundt (SW) 17:06 Pumpkin
Colton Cloud (SW) 18:03 Pumpkin
Trapper Johnson (SM) 19:44 Silver Creek
Wyatt Lundergan (SM) 20:59 Silver Creek
Noah Guetig (SM) 28:14 Silver Creek
BOYS SOCCER
Zach Gentile (SR) 3 goals, 2 assists in 3 games
Ryan Miller (SR) 2 goals in 3 games
Jacob Wolf (SC) maximum effort every game
Mitchell Cline (SW) 3 goals in 4 games
Jack Grote (SM) goal, assist in 2 games
Henry Grote (SM) goal in 2 games
Landon Cole (RS) 2 goals in 3 games
GIRLS SOCCER
Cadence Humes (SW) 2 goals in 2 games
Hannah Simpson (SW) 14 saves in 2 games
Taylor Brison (SR) 4 goals, assist in 3 games
Mariah Brison (SR) 2 assists vs. Austin
Matty Anderson (SC) 2 goals, assist in 4 games
Raylinn Kappes (SC) goal, assist in 4 games