There will be seven new members of the Hall of Fame when they are inducted at the Ripley County Tournament.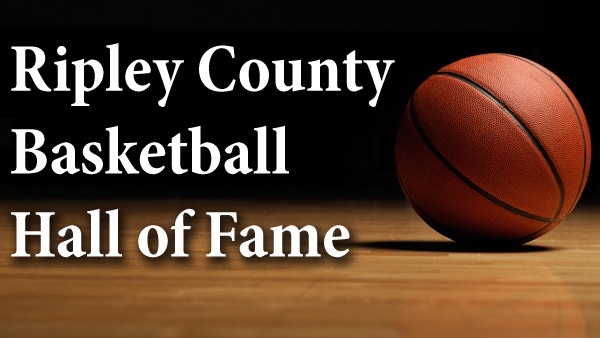 (Ripley County, Ind.) - The Ripley County Basketball Hall of Fame has announced the Class of 2020 inductees.
Seven local basketball greats will be inducted into the Hall of Fame at the annual ceremony before the championship game of the boys Ripley County Tournament at Batesville High School on Saturday, January 11, at approximately 7:30 p.m. (The consolation game tips off at 6:00 p.m.)
Inductees include:
Marcy (Dickman) Baumer, Jac-Cen-Del High School
Marcy (Dickman) Baumer is a 1992 graduate of Jac-Cen-Del High School. She went on to earn degrees in Chemistry and Biology at Indiana University. She then attended Butler University where she graduated with honors, earning a degree in Physician Assistant studies.
During her illustrious basketball career with the Lady Eagles, Baumer scored over 1,000 points in a three year span. Those points were scored entirely on two-point baskets and free throws. She was named the team's Most Valuable Player during her junior and senior year. She was her team's leading rebounder her sophomore, junior and senior years. During her senior year, she held the team's highest free throw percentage and averaged 21.3 points per game.
For her Lady Eagles, Baumer earned a spot on the Ohio River Valley All-Conference team in 1990, 1991 and 1992. In 1992, she was named the ORVC MVP as the leading scorer of the conference. She was also named to the Ripley County Invitational All-Tourney team in 1990, 1991 and 1992. She was named to the Batesville All-Sectional team those same three years, and was named Sectional MVP in 1991. She earned a place on the Columbus All-Regional team in 1991 by scoring 30 points in the regional game.
Thanks to her success with the Eagles, Baumer was named to the Hoosier Basketball Coaches Association All-Star team in 1991-1992. She also earned a spot on Hoosier Basketball Magazine's Fourth Team All-State in 1990-1991, and Second Team All-State in 1991-1992. In addition, she was named an alternate for the Magazine's Top 40 Workout. Adding to her collection of MVP designations, Baumer was named Most Valuable Player in the 40/8 All-Star Game.
Baumer is a Physician Assistant for Margaret Mary Health and currently lives in Batesville with her husband of 19 years, Dan. They have 2 sons. Max Baumer is a freshman at Batesville High School, and Alex Baumer is a 7th grader at Batesville Middle School.
Marcy Baumer is honored to join her father, Louis Dickman, and her sister, Connie Dickman, in the Ripley County Basketball Hall of Fame.
Ray Baurley, Milan High School
Ray Baurley is being recognized for the Ripley County Basketball Hall of Fame's Meritorious Service Award. Baurley, a 1963 graduate of New Marion High School, is best known for his long involvement with Milan's basketball program.
After high school, Baurley graduated from Marian College in 1969 and then obtained a master's degree from Indiana University. He was a business teacher at Milan High School for 37 years from 1970 to 2007. There, he coached freshmen basketball for five years and junior varsity
for 22 years, serving with 10 different varsity coaches. Since retirement, Baurley has continued his participation in Milan basketball by being the team's official scorer since 2009.
In addition to his service for the Milan teams, Baurley has supported his town and the greater Ripley County basketball community as a member and officer for the Hall of Fame board since 2006. He is a member of the Milan '54 Hoosiers Museum board, the Milan Community Dollars for Scholars, and the St. Charles Catholic Church of Milan.
Baurley was a fine basketball player in his own right, being a member of the only New Marion High School team to win a sectional and county tourney. He played under coaches Dale McNeely, Mike Wilson, and Wayne Ralston. He was named an All-Conference player in 1963 and also lettered three years in track, cross-country, baseball, and basketball.
Baurley's family includes his wife of 47 years, Linda, daughters Jane Lieland (Jeremy) and Kathryn Stock (Steve), and six grandchildren: Cayden, Nicholas, Ross, Lainey, Taylor, and Brody.
Craig Cutter, Milan High School
Craig Cutter graduated from Milan High School in 1979 as his school's all-time leading scorer, where he amassed 1,502 points over his four-year career as a varsity starter. Cutter scored 30 points in a single game as a freshmen, and went on to repeat that feat multiple more times in his gold and black uniform. He was his team's leading rebounder during his junior and senior seasons, and he averaged 21.5 points per game during his senior year while leading the Indians to the sectional championship game. It is said that Cutter was always tasked with guarding the best player on the opposing team.
Stats as impressive as these led to several honors for Cutter. He was named to the All-Sectional team three years, the All-County team three years, the EIAC All-Conference team his senior year, and an Honorable Mention All-State Academic team his senior year.
Cutter earned 13 varsity letters at Milan High School, including four each in basketball, baseball, and football, and one in cross country. Prior to graduation, he received letters of interest from several esteemed colleges including IU, Purdue, Notre Dame, and Duke, among others.
Cutter went on to play three sports in college. He received an appointment to attend West Point for his freshmen year where he played football. Then, he transferred to Otero Junior College in Colorado where he played both basketball and baseball. There, Cutter played in the Junior College basketball national tournament.
Craig and his wife, Dawn, have five children, Lauryn, Zach, Trish, Amy, and Brad; and also seven grandchildren. His family currently lives in Canon City, Colorado, where Craig has worked for Black Hills Energy for 38 years.
Rick Ehrman, Batesville High School
Rick Ehrman graduated from Batesville High School in 1989 after enjoying three years on his varsity basketball team. Ehrman finished his career ranked 21st on Batesville's all-time scoring list and ranked in the top 35 among single-season scoring records. Ehrman's teams are remembered for wins at the Ripley County Tournament, in the Eastern Indiana Athletic Conference, and in the IHSAA sectional tournament.
While donning the Bulldogs uniform, Ehrman shot an impressive career average of 80% from the free throw line, capped by a single season high of 94%, which placed him in the top 15 best free throw shooters in school history. Additionally, Ehrman was known as a threat from beyond the three point arc.
After graduation, Ehrman continued to play four years of basketball for the University of Wisconsin - River Falls. He worked as an executive for General Electric, Univision Communications, and NBC before recently being named Chief Executive Officer for VNN Sports in Grand Rapids, Michigan. Ehrman currently lives in Minneapolis, Minnesota and has five children with his late wife, Heather: Olivia (19), Harrison (16), Caiden (14), Remington (13), and Brody (10).
Jason Gambrel, South Ripley High School
Jason Gambrel is a 1992 graduate of South Ripley High School, where he was a three-year varsity basketball starter for the Raiders and Coach Bob Meyer. Gambrel graduated as his school's fourth all-time leading scorer with 996 points, thanks to his career 15.1 points per game average.
Along with total points, Gambrel set several school records for his shooting ability. Those include first in career three-point field goal percentage (47%), first in career three-point field goals made (175), first in single season three-point field goals made (66), and first in single season three-point field goals attempted (143). His career free throw average of 81% is also third all-time at South Ripley, capped by a single-season average of 87% during his junior year.
Gambrel earned 15 varsity letters at South Ripley, including three in basketball and four each in baseball, track & field, and cross country. After high school, he went on to play two years of baseball at Lincoln Trail College in Illinois. While there, he pitched for a career 10-5 record with a no hitter to his credit.
Gambrel transferred and graduated from Ball State University with a degree in physical education. He is presently employed at Hayden Elementary, a part of Jennings County schools, where he has taught PE for 19 years and is currently the middle school girls basketball coach. Jason started the archery program at Hayden, the first of its kind in Indiana. In addition to multiple state championships and success at the World Archery Championship, his archery team won a national championship in May of 2019 competing against 200 schools.
Jason is married to his wife of 21 years, Kelli, who is also an elementary school teacher. Together, they have two children, Brock and Gracie.
Jim Horstman, Sunman High School
Jim Horstman is a 1972 graduate of Sunman High School, where he is remembered as a terrific athlete who played all sports that were offered at the school. He was a three-year varsity basketball starter and in that time scored 1,498 points, placing him first all-time in the school's scoring records. In addition to being his school's only player to break 1,000 points, his career total places him seventh all-time in Ripley County.
Horstman averaged 22.4 points per game over his high school career, capped by a game-high 43 points against Batesville in 1972. His scoring ability earned him a spot on three All-Conference teams, three All-Sectional teams, and two All-County teams.
Horstman graduated from Sunman with 13 varsity letters, more than any other athlete in school history. In addition to basketball, Horstman played four years of varsity baseball. He was the Most Valuable Player and leading hitter on the 1972 sectional championship team. The story goes that Jim played in the morning regional baseball game that year in Columbus, then traveled to Indianapolis for the state track & field championships, where he finished seventh in the high hurdles. Then, he went back to Columbus to play in the regional baseball championship.
Horstman was a four-year letterman in track & field, three times being named MVP of his team. Even though Sunman didn't have a track, and the team practiced in a corn field next to the high school, Horstman ran 14.9 seconds in the high hurdles which earned him the seventh place finish at the state meet. He set the track record at Richmond High School with the same time during his regional championship meet. Additionally, Horstman was a two-time sectional champion and three-time conference champion in the high hurdles. He also lettered one year in varsity cross country.
Jim enjoyed a career in carpentry and currently owns and operates his business of building custom homes. He resides in Plainfield, Indiana with his wife of 45 years, Debbie. They have two children, Gina and Michael.
Nick Rohlfing, Jac-Cen-Del High School
Nick Rohlfing is a 1974 graduate of Jac-Cen-Del High School, where he finished his basketball career among the top 25 scorers and rebounders in school history. Rohlfing lettered three years in basketball as a member of the varsity team, and helped the Eagles to a sectional championship his sophomore year and a Ripley County Tournament championship his junior year.
Rohlfing was named to two All-Sectional teams, one All-Regional team, one All-Conference team, and one All-County team during his high school career. He was recognized by writer Tiny Hunt to be the only sophomore in the history of Ripley County basketball to be named unanimously to the All-Sectional team in 1972. Rohlfing went on to earn team awards including most field goals and most improved during his sophomore year and the free throw award his junior year. His senior year, Rohlfing was voted to the pre-season Honorable Mention All-State team and was also voted Who's Who among American High School Students.
In addition to basketball, Rohlfing lettered four years in track & field and three years in baseball. He was also named to two All-Conference baseball teams.
Rohlfing gave back to his school after graduation by returning to be the seventh and eighth grade basketball coach for two years and a varsity assistant coach for three years. Rohlfing is currently Jac-Cen-Del's varsity scorekeeper, a position he has held since 1991.
Nick was married to his wife, Karen, for 41 years before her passing. They have two children, Kent and Abby. Nick currently resides in Napoleon.