South Dearborn, East Central and Lawrenceburg were well represented on the 2021 EIAC Football All-Conference Team.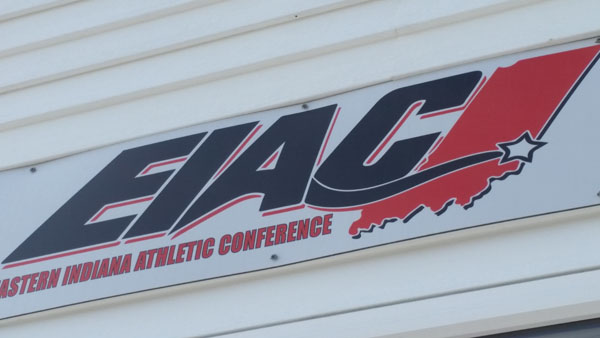 (Lawrenceburg, Ind.) - The Eastern Indiana Athletic Conference has named its top football players for the 2021 season.
On Wednesday, the 4A and 3A Division All-Conference Teams and Coaches of the Year were released.
In the 4A Division, conference champion East Central placed 12 players on the all-conference team, including EIAC Defensive MVP Sam Ringer. The Trojans defensive back totaled 47 tackles, 7 tackles for loss, 3 interceptions, fumble recovery, and defensive TD.
The EIAC 4A Division Offensive MVP is South Dearborn running back CJ Rogers. The Knights star ran for over 1,400 yards and 15 touchdowns. In total, the Knights placed eight players on the all-conference team.
East Central head coach Jake Meiners is the 2021 EIAC 4A Division Coach of the Year. Meiners led the Trojans to a 10-3 record, including a conference and sectional championship.
The 3A Division was won by the Lawrenceburg Tigers.
They were led by 13 all-conference selections, including Offensive MVP Garrett Yoon and Defensive MVP Nico Ferreira.
Yoon, a four-year starter at QB, finished the season with 2,393 yards and 26 touchdowns. He also ran for 858 yards and 13 scores. Ferreira was a big boost to the Tigers defense leading the team in tackles with 116. He also totaled 11 tackles for a loss, 8 sacks, and 2 interceptions.
The EIAC 3A Division Coach of the Year went to Tigers head coach Ryan Knigga. He led the Tigers to an 11-2 record, winning the EIAC and the sectional for the third consecutive season.
The full 2021 EIAC Football All-Conference Team is listed below.
4A Division
East Central (3-0): Sam Ringer (Def. MVP), Cole Burton, Casey McQueen, Luke Vogelgesang, Ryan Brotherton, Louis Gray, Ryan Bovard, Hunter Sohns, David Nash, Cooper Hoog, Sophie Browndyke, Eli Aston
South Dearborn (2-1): CJ Rogers (Off. MVP), Reese Willoughby, Alex Kemper, Ashton Kittle, Landon Herzner, Sean Sohmer, Billy Schulte, Ryan Willoughby, Drew Probst
Franklin County (1-2): Jacob Schatzle, Kaden Erfman, Bryce Hodapp, Bridger Bolos, Austin Hill
3A Division
Lawrenceburg (2-0): Garrett Yoon (Off. MVP), Nico Ferreira (Def. MVP), Luke Pierce, Jake Pierce, Dahya Patel, Ashton Craig, Colton Roth, Jackson Goodall, Micah Foster, Alex Witte, Noah Knigga, Aiden Gilmour, Jayce Bohan
Batesville (2-1): Trenton Roell, Bryson Bonelli, Chase Hamilton, Nick McConnell, Travis Lecher
Greensburg (1-1): Kadan Acton, Corbin Matthews, Luke Scheumann, Oakley Best, Matthew Stewart, Eli Moore, Sam West
Rushville (0-3): Devin Richardson