The local soccer team bounced back from an opening round loss to win the title.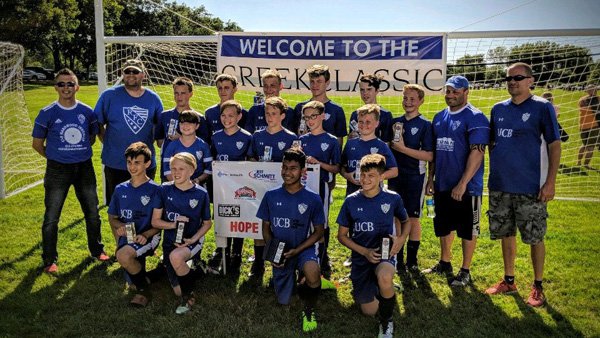 Photo provided.
(Beavercreek, Ohio) - On the heels of being a finalist in their last tournament, the Revolution FC Boys U14 competed in the top division at the recent Creek Classic soccer tournament over the weekend and took home the championship.
After suffering a defeat in the opening match to Ohio Celtic Alliance, they proceeded to win the next two matches and advance to the championship. In the championship game, they drew a rematch with the team that handed them a defeat the day before and got revenge with a suffocating defense that held the OCA team scoreless for a 2-0 victory to cap their spring season.
The Revolution FC roster includes Ayden Potts, Kolby Sharpshair, Levi Curlin, Sebastian Gilmour, Carson Griffith, Jason Hail, Kasey Sharpshair, Landon Duckworth, Hunter Garland, Dana Lewis, Brogan Radcliff, Kendall Montgomery, Ethan Titkemeyer, Aiden Griffith, Corbin Johnson, Zack Alexander, Cole Knecht and Landon Bray. The team is coached by David Titkemeyer, Brian Potts, Nathan Garland and Brandon Griffith.
The team is proudly sponsored by United Community Bank, Klump Excavating and Dog Gone Dirty LLC.