Ringer's TD helped propel the Trojans to the sectional semifinals.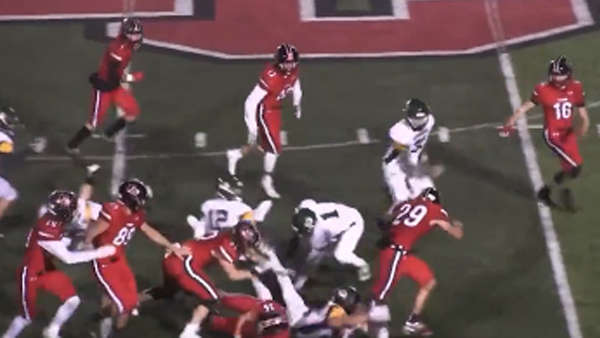 Sam Ringer (29) breaks one final tackle on his way to an 85-yard kickoff return TD.
(St. Leon, Ind.) – Wow.
That was the first thing that came to mind when video surfaced of Sam Ringer's 85-yard kickoff return touchdown in a sectional first round game against Greenwood.
The East Central star fielded the ball at the 15-yard line and fought off would be tacklers from the 30 to the 50-yard line before outrunning the Greenwood defenders to the end zone.
The video of Ringer's incredible run went viral and was nominated as one of CBS Sports HQ's top plays for Friday, October 22.
Ringer ended up receiving 94 percent of the 578 votes cast, beating out Chicago Bulls guard Alex Caruso and Cleveland Cavaliers center Jarrett Allen for Friday's top play.
More importantly, #5 East Central defeated Greenwood 44-14 advancing to the sectional semifinals, where they will meet #6 Mooresville.
Eagle Country 99.3 will bring you the massive sectional semifinal game from Mooresville on Friday, October 29 starting with pre-game coverage at 6:40 p.m.
WAIT FOR IT…….@Mr_Meiners @mikeroope @billyrumsey @STW_Chris @PrepRedzoneIN @IndianaPreps pic.twitter.com/ifmL3ZaGYr

— Samuel Ringer (@ringer_samuel) October 23, 2021