The Indians have beefed up their schedule to help prepare themselves for the postseason.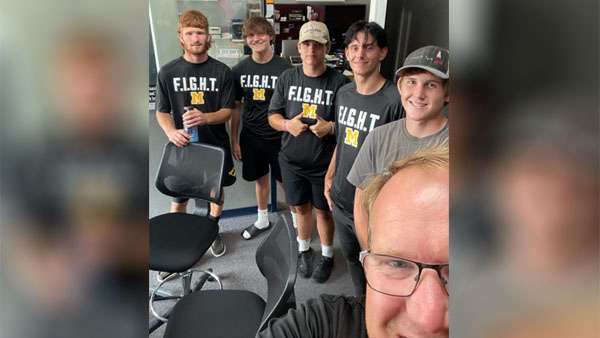 The Milan Indians during a recent edition of Crunch Time. Pictured left to right: Riley Johnson, Nolan Ryan, Braylen Nudds, Alex Wenger, Alec Barker, and head coach Ryan Langferman. Photo by Ryan Langferman.
(Milan, Ind.) – The Milan Indians have won a lot of football games over the past five seasons. This season, a talented, but largely inexperienced group will be tasked with keeping the winning ways going.
Since Ryan Langferman returned to the sidelines in 2016, the Indians have gone 41-16 (7-4 in 2020), winning one sectional championship in the process.
Milan has come close to adding two more sectional championships to the trophy case, losing in the sectional title game the last two seasons to North Decatur by a combined seven points.
Last year's team did celebrate a Mid-Indiana Football Conference Championship in the last season for the conference before it disbanded.
Milan, like every other school in the state, was thankful there was a 2020 season amid the COVID-19 pandemic.
"It was a good season. It ended in some heartbreak for the second year in a row," said Langferman. "North Decatur got the best of us in the sectional championship. It's never good when a season ends and that's always disappointing. But we were very thankful to get the season in. At this time last year, there were so many what ifs, so we were very thankful to get 11 games in. We had a couple regular season games we let get away from us that we'd like to play again. Ultimately, our goal was to win a sectional championship and we put ourselves in a place to do that, but just came up a little short."
RELATED: Crunch Time featuring the Milan Indians
The goal will remain the same in 2021. Win the sectional championship.
"Every year, it never fails the number one goal is to win sectional. That hasn't changed," said Langferman.
In order to win the sectional, Milan will have to overcome some key losses as the team lost 12 seniors to graduation, and two star players to personal reasons.
Key Losses:
Peyton Wert (QB/CB): 100-193, 1,677 yards, 22 TDs; 877 rushing yards, 8 TDs
Adam Norman (WR/S): 60 receptions, 1,047 yards, 16 TDs; 8 INTs (Committed to Indiana Wesleyan)
Carsyn Ascherman (WR/DB): 18 receptions, 356 yards, 3 TDs
Chandler Reatherford (OL/DL): 61 tackles, 16 TFL
Cody Simms (OL)
Colton Reatherford (OL)
Peyton Cavins (RB/FS)
Caiden Yorn (LB) - not playing this season for personal reasons
Hunter Merida (DL) - not playing this season for personal reasons
Top Returners:
Alex Wenger (Jr., DE) - 52 tackles, 8 TFL, 2 sacks, IFCA All-State Choice
Logan Reed (Jr., RB) - 111 carries, 700 yards, 10 touchdowns
Riley Johnson (Jr., S/RB) - 46 tackles, 3 TFL, 2 fumble recoveries; 25 carries, 163 yards
Alec Barker (Jr., LB/FB) - 44 tackles, 5 TFL
Braylen Nudds (Jr., OL)
Potential Breakout Stars: Landon Stanley (OL), Brayden Rohrig (QB), Jacob Bouck (DE), Mason Green (LB), Jonny Volk (WR), Nolan Ryan (OL), Jeremiah Johnson (CB), Austin Green (DB), Logan Burton (FS/H-Back), Ethan Pierce (TE/SS/LB), Trenton Langferman (OL), Mason Johnson (OL), Kaylb Lane (OL).
Offensively, Brayden Rohrig is expected to take over at quarterback. The junior signal caller has four career passing attempts and has carried the ball six times. Sophomore Logan Burton has also taken reps at QB this summer, although it sounds like he will play a significant role elsewhere.
"As a sophomore, he just wants to get on the field and he's a leader all the time," said Langferman. "Even as a freshman, I don't know if I've ever coached a player as vocal and wanting to be a leader as much as Logan. We are going to find a place for Logan somewhere."
Burton is playing as a free safety on defense and is listed as an H-Back on offense.
Several players are in the running for playing time at wide receiver, including Jonny Volk, Cole Moore, Ethan Kaulig, Jeremiah Johnson, Austin Green.
Juniors Logan Reed and Riley Johnson will be the primary ball carriers this season with Alec Barker leading the way at full back.
"We knew coming into the season we're going to have to be better at running the football," said Langferman. "We kind of tailored our offseason to that. There has been a lot of competition on the offensive line. We felt there were nine players have worked themselves up in the weight room, of this player has a chance to earn a starting spot. We've been getting those nine guys reps trying to figure out the best combination."
Langferman added that with so much youth on the team, and good roster numbers the team can look into their two-platoon system more than previous years - which will allow some players to focus more on playing on one side of the ball.
Defensively, the Indians will be led by junior defensive end Alex Wenger, junior linebacker Alec Barker, and junior safety Riley Johnson. Ethan Pierce and Logan Burton will compete for playing time at linebacker, while Jeremiah Johnson and Austin Green have turned some heads at defensive back.
Stat: Milan averaged 33.8 points per game in 2020; allowed 17.9 points per game.
Perhaps the biggest storyline surrounding Milan is a significant change to their schedule.
Two years ago at a conference meeting, some programs in the MIFC weren't really sure based on numbers if they would be able to field teams coming into this season, so they felt like a different schedule might get some excitement in their program and get some players out. For teams like Milan and North Decatur, they were concerned there would be holes in their schedule if some teams weren't able to field a team to play.
Therefore the conference teams mutually decided to go their own way, which resulted in Milan playing as an independent.
The Indians schedule will once again feature the likes of Rushville, Batesville, and Lawrenceburg (all 3A teams), Providence and Switzerland County. The new additions to the schedule are Madison (4A), New Miami (Oh.), Eastern Hancock, and Greensburg (3A).
"We're excited about the new challenge that lies ahead," said Langferman.
2021 Schedule
Friday, August 20 - Rushville - 7:00 PM
Friday, August 27 - at Batesville - 7:00 PM
Friday, September 3 - Lawrenceburg - 7:00 PM
Friday, September 10 - at Madison - 7:00 PM
Friday, September 17 - at New Miami (Oh.) - 7:00 PM
Friday, September 24 - Eastern Hancock - 7:00 PM
Friday, October 1 - at Providence - 7:00 PM
Friday, October 8 - Greensburg - 7:00 PM
Friday, October 15 - at Switzerland County - 7:00 PM