The Big Ten Championships take place this Saturday and Sunday at Rutgers University.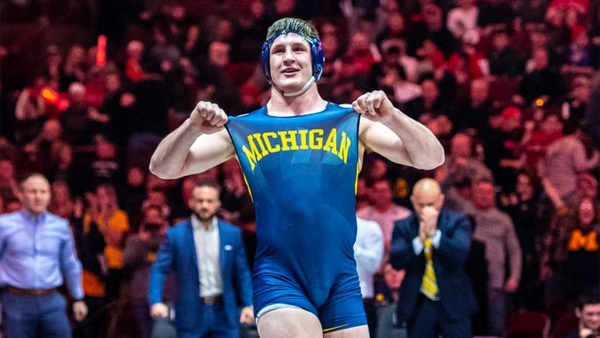 Mason Parris is the top-seeded heavyweight at the Big Ten Championships this weekend at Rutgers. File photo.
(Lawrenceburg, Ind.) – University of Michigan sophomore Mason Parris is heading into the Big Ten Championships as the top-seeded heavyweight.
Parris, the #2 heavyweight in the nation, is one of six Wolverines who earned a top-eight seed for the Big Ten Championships, which will take place at Rutgers University in Piscataway, New Jersey on Saturday and Sunday (March 7-8).
The Lawrenceburg native owns an undefeated 26-0 record on the season, with 17 bonus wins and 10 wins over nationally ranked opponents.
Two of those ranked opponents wrestle for Iowa and Wisconsin.
Parris earned a second period fall over Iowa's third-ranked Tony Cassioppi on February 8 and a 3-1 decision against Wisconsin's sixth-ranked Trent Hillger on February 16.
A potential final between Parris and Minnesota's Gable Stevenson would be the first time the two sophomores have met on the mat.
They are the top two wrestlers at 285 pounds, according to www.intermatwrestle.com.
The Big Ten Championships will stream live on BTN+.