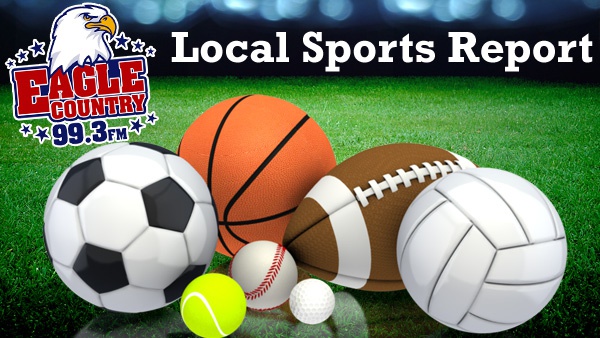 East Central boys tennis captured a sectional championship, while the Rising Sun boys soccer team became ORVC champs.
Please report missing scores to 888-537-9724 or email sports -at- eaglecountryonline.com.
FRIDAY, SEPTEMBER 28
FOOTBALL
Lawrenceburg 21, Rushville 19 – Lawrenceburg freshman QB Garrett Yoon had a big game with 166 passing yards, a touchdown, and a pick. He also ran for 114 yards and a TD. Mason Kennedy had seven carries for 17 yards and a score. Gavin Yoon caught five passes for 56 yards and a touchdown.
East Central 69, Connersville 3 – East Central romped over Connersville with 10 touchdowns. Senior QB Alex Maxwell was 9-of-9 passing for 106 yards and two TDs, while also running for 34 yards and two more scores. Nate Griffin, Gabe Patton, and Liam Jones each had a touchdown reception. Eric Rosemeyer had 10 carries for 127 yards and two touchdowns. Cayden Browndyke was 9-of-10 on PATs.
South Dearborn 49, Franklin County 9 – South Dearborn quarterback Adam Dixon went wild on the Franklin County defense. He was 13-of-20 passing for 298 yards with five touchdowns and an interception. Ethan Getz caught 4 passes for 116 yards and 3 touchdowns. Trey Thies and Chance Sperringer each had a TD catch, too. Owen Lunsford led the SD defense with 9 tackles. Austin Terrill, Axel Bell and Zach Dick each tallied two sacks.
Batesville 42, Greensburg 24
Milan 44, Oldenburg Academy 8 – Eagle Country 99.3 Feature Game – Milan totaled 510 yards of offense in a lopsided win. Parker Lewis threw for 241 yards and four touchdowns. He found Orrin Schmidt twice, and also three TDs to Adam Norman and Peyton Wert. Tyler Smith ran 14 times for 159 yards and a touchdown. Trent Burdette added a late touchdown to go with 62 rush yards. Kicker Brent Quatman added a 35-yard field goal.
Switzerland County 41, South Decatur 7 – Switz picked up their fifth win of the season and clinched their first non-losing season in the four-year history of their varsity program. The Pacers are now 3-0 in the Mid-Indiana Football Conference, tied with Milan for first place.
BOYS SOCCER
Rising Sun 1, Southwestern 1 tie – The Shiners clinched the ORVC Boys Soccer Championship with the tie. Rising Sun's goal was scored by Landon Cole. Keeper Jordan Parsons had five saves in the net.
BOYS TENNIS
IHSAA Sectional 16 at South Dearborn – Semi-Finals
Batesville 5, Milan 0
East Central 5, Lawrenceburg 0
GIRLS SOCCER
East Central 2, Batesville 0 – Ema Hinton and Mackenzie Hogg were the scorers for East Central. Eva Grimm was credited with an assist. Goalie Jessica Shipman made seven saves to help EC get the win.
Jac-Cen-Del 4, South Ripley 0
SATURDAY, SEPTEMBER 29
BOYS SOCCER
Lawrenceburg 2, Ross 1
BOYS TENNIS
IHSAA Sectional 13 at Connersville – Championship
Connersville 5, Franklin County 0
IHSAA Sectional 16 at South Dearborn – Championship
Ladies and Gentlemen you're 2018 Sectional Champions #ECtennis #WeareEC @SDCS_SUPER @TrojansATC @ECTrojanSports #17-3 pic.twitter.com/qNvn3bt0Ev

— East Central Tennis (@ECTrojanTennis) September 29, 2018
East Central 3, Batesville 2 – East Central advances to play Connersville in the IHSAA Regional Semi-Finals at Richmond High School on Tuesday, October 2. The Trojans are now 17-3 on the year.
CROSS COUNTRY
ORVC Championship Meet
ORVC Champion Megan Cole! Way to Go!! #SRXC pic.twitter.com/8VTA3WbuMF

— SR Running (@SRHS_Running) September 29, 2018
South Ripley's Megan Cole continued her great senior season by winning the Ohio River Valley Conference Cross Country Championship on Saturday at Hanover. She completed the course in 19:56 to claim the individual title, while also leading South Ripley to the team title for the first time in 22 years. Switzerland County's Leah Anders was second with a time of 20:52, followed by South Ripley's Elyse Hunger in third at 21:52. Switzerland County finished second in the girls team standings, followed by Jac-Cen-Del, Milan, and Southwestern.
In the boys race, Southwestern had the team title and the individual title with senior Bradley Winston placing first with a time of 17:22. Jac-Cen-Del was second as Damon Hughes finished second in 17:53. Switzerland County was third as a team, followed by Rising Sun in fourth, and South Ripley in fifth.
Find full meet results at http://www.stuartroadracing.com/crosscountry.html.
Congratulations to the Girls Cross Country team for finishing 3rd and the Boys team for finishing 2nd at the ORVC Meet!

Kayla Simon, Cloey Simon, Tanner Dilk, Damon Hughes, and TJ Menchhofer made the All-Conference Teams! Great job Eagles! pic.twitter.com/YS5flgwd89

— JCD Sports (@JCDSports) September 29, 2018
GIRLS SOCCER
Taylor (Ohio) 1, South Dearborn 1 tie
VOLLEYBALL
Connersville 3, Lawrenceburg 2 – 25-22, 13-25, 28-26, 12-25, 21-19 – Lawrenceburg lost a very close match, but not for lack of effort. Cora Taylor posted 20 kills, 5 aces, 19 digs, and 2 blocks. Grace Taylor had 18 digs, 7 kills, and 2 aces. Emma Sandford had 17 digs.
East Central 3, Shelbyville 1 – 25-18, 26-24, 23-25, 25-21 – East Central improved to 23-2 on the season. EC's Molly Gregg posted 12 kills, 4 aces, a block, and 5 digs. Mack Ewing had 16 kills, 9 digs, an ace and a block. Alex Disbro led with 10 digs and 2 aces.
Rising Sun Invitational
Rising Sun 2, Switzerland County 0 – 25-15, 25-18 - Rising Sun won their own weekend tournament, going 3-0 on the day.
Rising Sun 2, South Dearborn 0 – 25-21, 25-19
Rising Sun 2, North Decatur 1 – 25-16, 15-25, 15-9
Richmond Invitational
Monroe Central 2, Franklin County 0 – 25-11, 25-13