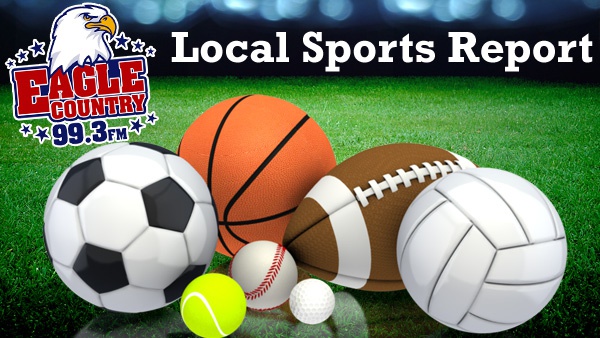 South Dearborn football won their fourth straight game on Friday. Lawrenceburg volleyball won their own tournament on Saturday.
Please report missing scores to 888-537-9724 or email sports -at- eaglecountryonline.com.
FRIDAY, SEPTEMBER 14
FOOTBALL
Lawrenceburg 35, Franklin County 13 – Eagle Country 99.3 Feature Game – Lawrenceburg freshman QB Garrett Yoon was impressive, completing 14 of 25 passes for 323 yards, three touchdowns, and two interceptions. Yoon also ran for 60 yards and two TDs. Older brother Gavin Yoon caught 5 passes for 184 yards and two scores. Jalen Parks caught three passes for 70 yards and a TD.
East Central 55, Batesville 9 – East Central improved to 4-1 with the win. QB Alex Maxwell had a big game, going 9-of-17 passing for 122 yards and a touchdown while also running for 148 yards and three more scores. Sophomore running back Jake Fike had nine carries for 136 yards and two TDs. Eric Rosemeyer had 132 rush yards for a score. Trevor Becker caught three passes for 61 yards and a touchdown.
South Dearborn 27, Greensburg 14 – South Dearborn's shutout streak ended, but the Knights captured their fourth straight win. Knights QB Adam Dixon passed for 96 yards and two touchdowns. Dalton Guthrie carried 24 times for 165 yards and a touchdown. David Blair ran 11 times for 49 yards and a score. Wideout Ethan Getz caught three passes for 47 yards and two TDs. Defensively, Owen Lunsford had seven tackles, an interception, a forced fumble, and a blocked punt.
Milan 9, North Decatur 0 – Milan's Parker Lewis scored the only TD of the game on a pass to Orrin Schmidt. Lewis was 6-of-15 for 75 yards with the score and an interception. Tyler Smith racked up 26 rushes for 136 yards. Schmidt had 23 receiving yards while Adam Norman caught a ball for 22 yards. Brent Quatman added a field goal for Milan.
the bleachers pic.twitter.com/57xy70nNcY

— Fernando Gómez (@FerGoGo67) September 15, 2018
Switzerland County 24, Oldenburg Academy 12
Switzerland County High School Homecoming 2018! https://t.co/k4crZAakkc

— Mr. Rod Hite (@Rod_Hite) September 15, 2018
BOYS SOCCER
Southwestern 0, Rising Sun 0 tie
GIRLS SOCCER
Southwestern 7, Rising Sun 1
SATURDAY, SEPTEMBER 15
BOYS SOCCER
Plainfield 1, East Central 0
Batesville 1, Greenfield-Central 0
Oldenburg Academy 10, Knightstown 2 – OA's Lucas McFee netted three goals and made two assists to lead the Twisters. Ben Kraus and Gariott Scott both scored two goals with an assist. Adam Huber, Blake Borgman, and Sam Mahoney also scored a goal a piece for OA.
CROSS COUNTRY
South Dearborn Knight Invitational
Girls are the SD Invite Div II champs!! pic.twitter.com/M0NL1x2CGX

— SR Running (@SRHS_Running) September 15, 2018
Fifteen cross country teams met on the course in Moores Hill for the South Dearborn Knight Invitational. There were four races divided among the boys and girls, and divisions I and II. In boys division I, Jennings County won the team trophy. Batesville's Ean Loichinger finished second at 16:38. Division II boys was won by Williamstown. Jac-Cen-Del sophomore David Hughes placed second at 17:20.
In the girls division I race, Jennings County took the team title while Greensburg's Branner Hanna was the top individual at 18:55. Batesville's Lily Pickney was third at 20:06.
The girls divisions II race was claimed by South Ripley, whose Megan Cole won it in 19:13, a new school record. Switzerland County's Leah Anders was second with a time of 20:37.
Find full meet results at http://www.stuartroadracing.com/crosscountry.html.
GIRLS GOLF
IHSAA Sectional at Greensburg
No local teams advanced past the IHSAA Sectional round at the sectional tournament held at Greensburg Country Club on Saturday. Batesville's Meredith McCreary posted a round of 80 in order to earn advancement as an individual without her team. McCreary will participate in the IHSAA Regional at Lapel's Edgewood Golf Club on September 22.
IHSAA Sectional at Richmond
Franklin Count's girls golf team is going on to the IHSAA Regionals. The Lady Wildcats placed second in the sectional tournament at Richmond's Elks Golf Course on Saturday. Franklin County's team score of 371 was second only to host Richmond's 336. FC's Maggie Brack carded an 89, Camryn Brewer scored a 90, and Abby Orschell turned in an 92. FC will play in the IHSAA Regional at Lapel's Edgewood Golf Club on September 22.
GIRLS SOCCER
East Central 1, Ross 0 – Mackenzie Hogg netted the goal for EC off an assist from Hailey Fritz. Goalie Jessica Shipman made 6 saves to help the Trojans get the victory.
Lawrenceburg 0, Heritage Christian 0 tie
Batesville 7, Connersville 0 – Denise Davalos and Abbey Prickel each kicked two goals for Batesville. Carlie Werner, Hailey Mohr, and Lauren Gutzwiller scored single goals. Georgia Gratz had two assists.
Milan 2, Shelbyville 0 – Lily Phelps scored for Milan thanks to an assist from Riley Clark. Maggie Schmidt added another goal for Milan.
Indianapolis Bishop Chatard 2, Oldenburg Academy 1
VOLLEYBALL
Lawrenceburg Tournament
@Attucks_Sports 12th Annual Tiger Invite was a smooth, well run VB tourney!!! Tip of the hat and a deep bow to Chris Hawkins & crew for a great event! See ya next year!!! #strongtraditions #goodVB @ihsvca @IHSAAvb @OAAthletics

— OA Volleyball (@OATwisterVB) September 15, 2018
Lawrenceburg 2, Hauser 0 – 25-17, 25-19
Lawrenceburg 2, Ludlow (Ky.) 0 – 26-24, 25-11
Lawrenceburg 2, Jac-Cen-Del 0 – 25-8, 25-5
Rising Sun 2, Jac-Cen-Del 0 – 25-15, 25-9
Hauser 2, Rising Sun 0 – 25-16, 27-25
Southwestern 2, Rising Sun 1 – 25-20, 17-25, 15-11
Rising Sun 2, South Dearborn 0 – 25-17, 25-12
Southwestern 2, South Dearborn 0 – 25-9, 25-13
Hauser 2, South Dearborn 0 – 25-9, 25-11
Ben Davis Invite
#ECVB went 3-0 at Ben Davis defeating Jennings County (2-0), Ben Davis (2-0) and Scecina (2-1)! #champs #icantbutwecan pic.twitter.com/uWXz92ltZw

— EC VOLLEYBALL (@EastCentralVB) September 15, 2018
East Central 2, Indianapolis Scecina Memorial 1 – 17-25, 25-16, 15-7 – East Central won the Ben Davis Invitational.
East Central 2, Ben Davis 0 – 25-20, 25-15
East Central 2, Jennings County 0 – 25-14, 25-14
Franklin Community Tournament
Batesville 2, Southport 0 – 25-19, 25-19
Batesville 2, Lawrence Central 0 – 25-16, 25-19
Seymour 2, Batesville 0 – 25-13, 25-15
Batesville 2, Decatur Central 1 – 20-25, 25-14, 15-11
Panther (Knightstown) Invitational
Monroe Central 2, Milan 0 – 25-10, 25-15
Seton Catholic 2, Milan 1 – 22-25, 25-22, 15-13
Crispus Attucks Tournament
Elwood 2, Oldenburg Academy 0 – 25-18, 25-12