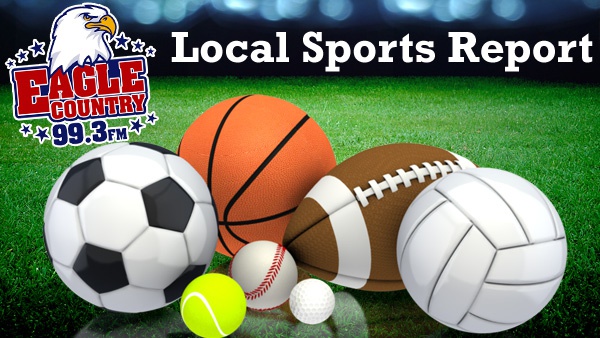 A host of sectional champions in soccer and cross country were determined on Saturday.
Please report missing scores to 888-537-9724 or email sports -at- eaglecountryonline.com.
FRIDAY, OCTOBER 5
FOOTBALL
East Central 38, Greensburg 14 – Eagle Country 99.3 Feature Game – The Trojans scored 31 of their points in the first half en route to completing an undefeated run through their EIAC schedule. QB Alex Maxwell was 7-of-12 passing for 134 yards and a touchdown, while also running for 107 yards and three more scores. Eric Rosemeyer added 76 yards and a TD on 11 carries. Liam Jones caught two passes for 39 yards and a touchdown. Brett Fox totaled 9 tackles and a sack. Cayden Browndyke kicked a 45-yard field goal in the first half.
Lawrenceburg 27, Connersville 26 – Lawrenceburg completed a second-half comeback to steal the win. Freshman quarterback Garrett Yoon was 15-of-27 for 246 yards, two touchdowns, and an interception, while also rushing for 87 yards and a third TD. Seth Lampert caught four passes for 73 yards, while Adam Burd and Brody Dennison each had a touchdown catch. Marshall Kinnard led LHS on defense with 12 tackles.
South Dearborn 34, Rushville 6 – South Dearborn's David Blair starred with 105 rush yards and a touchdown. Timmy Dick added 80 rush yards and two scores. QB Adam Dixon completed 9-of-15 passes for 135 yards and two TDs. Chase Sperringer and Hunter Hatfield each caught a TD pass. Defensively, Austin Terrill picked up 11 tackles. Austin Ashcraft had a sack and three tackles.
Batesville 44, Franklin County 13
Providence 42, Milan 13 – Three turnovers doomed the Indians. Milan's Parker Lewis was 13-of-23 for 147 yards, a touchdown, and a pick. Tyler Smith gained 98 yards and a TD on 25 carries. Adam Norman caught four passes for 43 yards and a score.
North Decatur 48, Switzerland County 6
Oldenburg Academy 16, South Decatur 7
SATURDAY, OCTOBER 6
BOYS SOCCER
IHSAA 3A Sectional 12 at Mount Vernon (Fortville) – Championship
Greenfield Central 4, East Central 1 – East Central's season ends with a 13-4-2 record.
IHSAA 2A Sectional 28 at Lawrenceburg – Championship
Lawrenceburg 4, South Dearborn 0 – Lawrenceburg (13-3-2) advances to the IHSAA 2A Regional against Herron (5-3-2) at Greensburg High School on Saturday, October 13. South Dearborn's season ends with an 8-8-1 record.
IHSAA 1A Sectional 46 at Jac-Cen-Del – Championship
Shiners win! Sectional #46 Champions
Final score 6 to 1@orvcsports @IHSAA1 pic.twitter.com/hjkKedNTAW

— Rising Sun Shiners (@rsshiners) October 7, 2018
Rising Sun 6, South Ripley 1 – Rising Sun's Zac Brokaw knocked in three goals to help the Shiners capture the sectional crown. Jake Bovard had two goals and James Bounds added another for the Shiners. Brayden Buch, Landon Cole, and Kendall Montgomery each had an assist. Jordan Parsons made three saves in the net. Rising Sun (12-3-3) advances to the IHSAA 1A Regional at Providence where they will play South Spencer on Saturday, October 13. South Ripley's season ends with a 5-10-3 record.
CROSS COUNTRY
IHSAA Sectional at South Dearborn
Sectional Champions!
Lady Bulldogs place first at the South Dearborn Cross Country Sectional. On to the regional meet next Saturday. pic.twitter.com/HLuDSNQ8N4

— Batesville H.S. (@BulldogsBville) October 6, 2018
Batesville's Ean Loichinger led the Bulldogs to the sectional title Saturday in Aurora. The freshman won the race in 16:29. BHS teammates finishing in the top eight included Adam Moster, Benjamin Moster, Dillon Murray, and Joshua Myers. Top five teams advancing to the IHSAA Regional next week include Greensburg, East Central, Jac-Cen-Del and Oldenburg Academy.
In the girls race, Greensburg's Brenner Hanna won the individual sectional championship in 18:58. South Ripley's Megan Cole was second at 19:15. Batesville took the team title, followed by Greensburg in second, East Central in third, South Ripley in fourth, and South Dearborn in fifth – all of whom advance to the IHSAA Regional.
Find full meet results at http://www.stuartroadracing.com/crosscountry.html.
Lady Raiders are Regional bound!! The girls finished 4th overall at the Sectional. Megan Cole and Elyse Hunger finished in the Top 10 - All Sectional Team. The Regional is next Saturday in Shelbyville. #SRXC pic.twitter.com/Xpx4G0flsM

— SR Running (@SRHS_Running) October 6, 2018
IHSAA Sectional at Connersville
@FCHSWildcats Lauren Kelly wins sectional title in Cross Country. pic.twitter.com/desdHnyDiD

— Denny Dorrel (@FCHSAD) October 6, 2018
Franklin County's Lauren Kelly won the sectional title, finishing first at 21:25, at the IHSAA Sectional at Connersville on Saturday. The FC girls came in second in the team standings to earn advancement to the IHSAA Regional on Saturday, October 13.
Franklin County boys just missed the cut, finishing in sixth place as a team. The Wildcats were led by three runners earning individual advancement to the regional round: Ben Maze, Drew Grant, and Tanner Lainhart.
Find full meet results at http://www.stuartroadracing.com/crosscountry.html.
IHSAA Sectional at Southwestern
The Switzerland County Lady Pacers are going to the IHSAA Regional thanks to a third place rank in the team standings at Southwestern's Sectional meet on Saturday. Senior Pacer Leah Anders placed 4th overall at 21:34.
The Switzerland County boys placed eighth as a team and did not have any individuals place high enough to advance.
Find full meet results at http://www.stuartroadracing.com/crosscountry.html.
GIRLS SOCCER
IHSAA 2A Sectional 27 at Batesville - Championship
South Dearborn 3, Batesville 1 – South Dearborn captured the sectional championship, the first since 2011. Two goals were scored by Erin Huber while Abby Hensley added one. The Knights (10-6-1) advance to the IHSAA 2A Regional at New Palestine, where they will meet Cathedral (9-4-4) on Saturday, October 13 at 10:00 a.m. Batesville's season ends with a 15-3 record.
IHSAA 1A Sectional 46 at Rising Sun – Championship
Oldenburg Academy 9, Switzerland County 0 – OA asserted themselves as the best team in the sectional, wrapping up the championship. Oldenburg (12-5-1) advances to play against Forest Park at the Forest Park 2A Regional on Saturday, October 13. Switz's season ends with a 6-7-2 record.
VOLLEYBALL
Union County Invitational
#ECVB defeated our conference rivals Lawrenceburg in the championship today to become back to back Union County Invite Champs! It sure is a great day to be a Trojan! #icantbutwecan @ECTrojanSports pic.twitter.com/3LOuoTlQ4l

— EC VOLLEYBALL (@EastCentralVB) October 6, 2018
East Central 2, Lawrenceburg 1 – 22-25, 25-17, 15-6 – East Central beat their in-county river to become champions of the Union County Invitational.
East Central 2, Alexandria-Monroe 0 – 25-16, 25-15
East Central 2, Shenandoah 1 – 25-23, 14-25, 17-15
East Central 2, Union County – 25-19, 25-21
Lawrenceburg 2, Adams Central 0 – 25-16, 25-15
Lawrenceburg 2, Union County 1 – 17-25, 25-22, 15-12
Lawrenceburg 2, Seton Catholic 0 – 25-9, 25-14
Brebeuf Jesuit Pre-State Invitational
Brebeuf Jesuit 3, Batesville 0 – 25-14, 25-14, 26-24 – Hattie Westerfeld racked up 8 kills, 3 blocks, and 2 aces for Batesville. Jenna Ertel had 13 digs.