South Dearborn is heading to the semi-state in girls soccer, Lawrenceburg captured a volleyball sectional championship and several local cross country stars are heading to semi-state.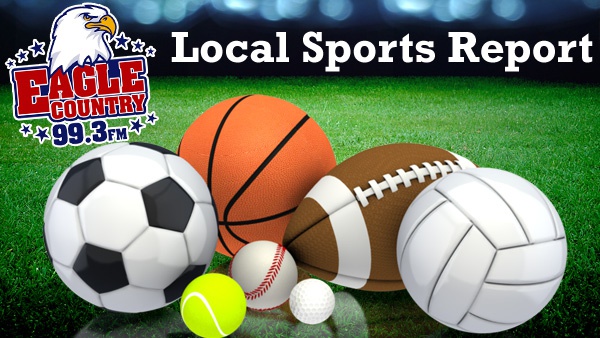 Please report missing scores and statistics to 888-537-9724 or email sports -at- eaglecountryonline.com.
FOOTBALL
Lawrenceburg 55, South Dearborn 20 - Eagle Country 99.3 Feature Game - The Tigers scored on their first eight possessions thanks to a big night from the Yoon brothers. Quarterback Garrett Yoon went 13/20 with 400 yards and six touchdowns. Older brother, Gavin, had eight receptions for 245 yards and three scores. Adam Burd was electric on offense with two rushing TDs and two receiving TDs. For South Dearborn, they were led by running back Dalton Guthrie. The senior rushed for 75 yards and two TDs.
East Central 49, Beech Grove 15 - The Trojans capped off an undefeated regular season behind a big game from Jake Fike. The junior running back rushed for 193 yards and two touchdowns. QB Ryan Bond went 11/14 with 143 yards and three TD passes to David Badescu (2) and Mac Studer. East Central also got a defensive score by Gage Ertel.
Milan 54, Switzerland County 0
Batesville 42, Connersville 13
Harrison (Oh.) 55, Franklin County 7
Covenant Christian 46, Oldenburg Academy 0
GIRLS SOCCER
Class 3A Regional at New Palestine - semifinals
East Central 0, Avon 2 - The Lady Trojans finish the season with a 13-3-2 record and a sectional championship.
Class 2A Regional at Brebeuf Jesuit - semifinals
South Dearborn 4, Tri-West Hendricks 1 - All 25 South Dearborn saw playing time. Megan Heeke scored two from distance, Erin Huber and Alley Lunsford added a goal each. Abby Hensley, Katie Cutter and Lauren McHenry each had an assist. SD out-shot Tri-West 16-8, with 8-5 shot on-goal advantage.
Batesville 0, Brebeuf Jesuit 4
Regional Championship: South Dearborn 2, Brebeuf Jesuit 1 - Erin Huber gave SD the early lead, scoring five minutes into the game, assisted by Abby Hensley. Brebeuf countered four minutes later to even it up at 1-1. In the second half, Huber scored another goal, 15 minutes into the half, assisted by Katie Cutter. The Lady Knights defense did the rest, sending South Dearborn to the semi-state. Brebeuf Jesuit was ranked #1 in Class 2A. South Dearborn will play Evansville Mater Dei on Saturday, October 26.
REGIONAL CHAMPIONS! Way to go Lady Knights! 2019 Regional Champions! #WeAreSD #SuccessDriven #KnightNation pic.twitter.com/pMofBuUxWH

— Dr. Jeff Bond (@drjeffbond) October 20, 2019
Class 1A Regional at Forest Park - semifinals
Oldenburg Academy 2, Providence 2 - The Lady Twisters advanced to the regional championship on penalty kicks (5-4).
Regional Championship: Oldenburg Academy 2, Evansville Day 3.
BOYS SOCCER
Class 2A Regional at Greensburg - semifinals
Batesville 0, Speedway 2
Class 1A Regional at Providence - semifinals
Jac-Cen-Del 5, North Posey 0
Regional Championship: Jac-Cen-Del 3, Providence 0 - The Eagles move on to play Indianapolis Lutheran in the semi-state on Saturday, October 26.
REGIONAL CHAMPS! 🦅⚽️🏆🥇 pic.twitter.com/GwcchGl9Jl

— JCD Sports (@JCDSports) October 20, 2019
CROSS COUNTRY
Franklin Community Regional
The Batesville boys and girls teams are heading to the semi-state. The Lady Bulldogs won their first Regional title in school history, while the boys finished third.
2019 Franklin Regional Champions

Girls will compete next Saturday, October 26 at Shelbyville pic.twitter.com/GFsTqRGomK

— Batesville High School (@BulldogsBville) October 19, 2019
Individuals advancing to semi-state include:
Michael Schwebach, Rachel Campbell, and Emilee Wedding, East Central
Lanie Nicholson, South Ripley
Damon Hughes, Jac-Cen-Del
Tyler Kuntz and Dylan Fledderman, Oldenburg Academy
Hannah Morgan, Lawrenceburg
Rachel Rohe, South Dearborn
Congratulations!! Semi-State bound!!! https://t.co/maqgcycxso

— East Central HS (@EastCentralHS) October 20, 2019
Awesome! Congrats, Lanie! #RaiderPride https://t.co/FBs57GEGJG

— Rob Moorhead (@RobMoorhead01) October 19, 2019
VOLLEYBALL
Class 3A Sectional 29 at Batesville - semifinals
Batesville 3, Connersville 0 - (25-22, 25-17, 25-14)
Lawrenceburg 3, Greensburg 2 - (18-25, 25-19, 12-25, 25-16, 15-10)
Sectional Championship: Lawrenceburg 3, Batesville 2 - (23-25, 25-20, 19-25, 25-17, 15-12) - Lawrenceburg advances to play Silver Creek at the Corydon Central Regional on Saturday, October 26 at 11:00 a.m.
Congratulations @LburgVB! Sectional Champs 2019! pic.twitter.com/SsJRdXKO91

— Ryan Knigga (@lhstigercoach) October 20, 2019
Class 2A Sectional 45 at South Ripley - semifinals
South Ripley 3, Milan 2 - (25-19, 28-26, 24-26, 12-25, 15-12)
Sectional Championship: North Decatur 3, South Ripley 0 - South Ripley's season ends with a 10-13 record.
Class 1A Sectional 62 at Trinity Lutheran - semifinals
Rising Sun 3, West Washington 0 - (25-22, 25-23, 25-16)
Sectional Championship: Trinity Lutheran 3, Rising Sun 0 - (25-5, 25-14, 15-13)