It was a busy weekend filled with football, soccer, boys tennis sectional, girls golf state, and ORVC cross country championship.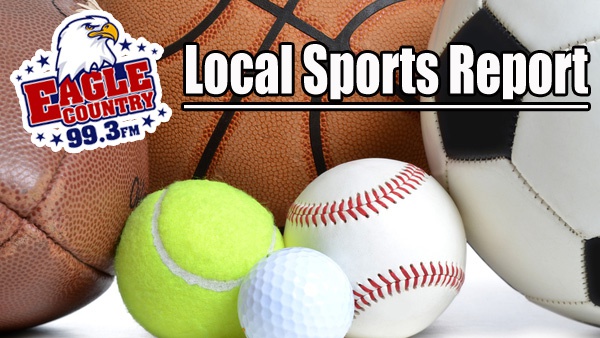 FRIDAY, OCTOBER 1
FOOTBALL
South Dearborn 24, Franklin County 14 (Eagle Country 99.3 Feature Game) - The Knights improve to 5-2 (2-1 in EIAC 4A Division).
CJ Rogers (SD): 29 carries, 154 yards, TD
Adam Kunkel (SD): 12-26, 173 yards; 5 carries, 5 yards, 2 TD
Austin Ballart (SD): 4 receptions, 73 yards
Drew Probst, Corbin Cassidy (SD): INT each
East Central 73, Connersville 6 - The Trojans improve to 6-1 and capture their 28th EIAC 4A Conference Championship. (3-0 in EIAC 4A Division). The Trojans also extended their conference winning streak to 50 games.
Trae Ohmer (EC): 4 carries, 136 yards, 3 TD
Cole Burton (EC): 70-yard TD to Eli Aston
Ryan Brotherton, Grant Ernst, Sam Ringer, Chase Bellman (EC): rush TD each
Sam Ringer, Jack Rinear (EC): INT each
Lawrenceburg 91, Rushville 12 - The Tigers capture the EIAC 3A Division Championship, while setting a school record for points in a game. The previous record was 72 points against South Decatur in 1976.
Garrett Yoon (LB): 6-9, 223 yards, 4 TD; 2 rushing TD
Aiden Gilmour (LB): 4 receptions, 147 yards, 3 TD
Landon Cornett (LB): 7 carries, 77 yards, 2 TD
Teagan Bennett (LB): 6 carries, 45 yards, 3 TD
Alex Witte (LB): fumble recovery TD
Providence 35, Milan 21
Batesville 35, Greensburg 28
Cooper 51, Madison 19
Switzerland County 14, South Decatur 8
Harrison 33, Mt. Healthy 25
Wyoming 18, Taylor 0
BOYS SOCCER
South Ripley 2, Jac-Cen-Del 0 - The Raiders take over 1st place in the ORVC (8-0-4).
Logan Betz, Ben Miller (SR): goal each
Southwestern (Hanover) 4, Rising Sun 1
VOLLEYBALL
South Ripley 3, Jac-Cen-Del 0 (25-20, 25-11, 25-19)
Rachel Meyer (SR): 14 kills
Sarah Meyer (SR): 9 kills
Brionna Linkel (SR): 27 assists, 14 digs
Lydia Cornett (SR): 14 digs
GIRLS GOLF
IHSAA State Finals - Held Friday and Saturday (36 holes total)
Batesville finished 14th out of 15 teams. The Lady Bulldogs carded a 392 on day one, and improved with a 376 on day two.
Emma Weiler tied for 29th place individually, carding an (87) and (75) between her two rounds.
Addyson Weiler tied for 34th overall. She carded an (83) both rounds.
Josie Meyer tied for 80th with a total score of 195.
SATURDAY, OCTOBER 2
BOYS TENNIS
IHSAA Sectional 16 at East Central
Batesville 4, East Central 1
*The Bulldogs will take on Richmond at the Richmond Regional on Tuesday.
IHSAA Sectional 13 at Connersville
Rushville 4, Franklin County 1
*The Lions advance to take on Knightstown at the Richmond Regional.
CROSS COUNTRY
ORVC Championship
Boys Results: 1. Rising Sun (60), 2 Southwestern (63), 3. South Ripley (65), 4. Switzerland County (67), 5. JCD (71)
Rising Sun's Peyton Merica finished in 1st place with a time of 17:46.2. Ethan Markland and Casey Fletcher also placed in the Top 10 for the Shiners.
Switzerland County freshman Cooper Hon placed 2nd, followed by JCD's Josh Pohle in third place.
Girls Results: 1. Switzerland County (26), 2. South Ripley (43), 3. JCD (72), 4. Southwestern (81).
Switzerland County's Claire Rogers placed 1st with a time of 19.45.2. Grace White, Amber Detmer, Alisha Detmer, and Carlee Boggs also placed in the Top 10 for the Lady Pacers.
South Ripley's Lanie Nicholson finished 2nd with a time of 20:35.2. Emily Campbell placed 3rd, followed by Deborah Murphy in 8th place.
Full results at www.stuartroadracing.com.
GIRLS SOCCER
Lawrenceburg 6, New Albany 1
VOLLEYBALL
Richmond 2, Franklin County 0 (25-3, 25-8)
New Palestine 2, Franklin County 0
Rising Sun 2, Switzerland County 0 (25-9, 25-15)
Cora Poling (RS): 11 kills
Baylee Morris (RS): 20 assists
North Decatur 2, Rising Sun 0
Scottsburg 2, South Ripley 1 (19-25, 25-16, 15-10)
Sarah Meyer (SR): 10 kills
Rachel Meyer (SR): 9 kills
Heritage Hills 2, South Ripley 0
Salem 2, South Ripley 1
North Decatur 2, Switzerland County 0
Shelbyville 3, East Central 1