Lawrenceburg's Mason Parris and Franklin County's Mitchell Orschell were both sectional champions in three track and field events Thursday. Find local varsity sports scores with one click, presented by Beacon Orthopaedics & Sports Medicine.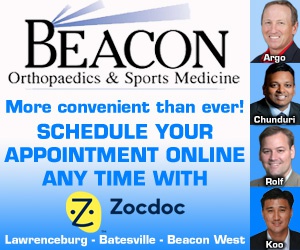 Please report missing scores to 888-537-9724 or email sports -at- eaglecountryonline.com.
BASEBALL
Lawrenceburg 4, East Central 3 – Lawrenceburg's Eli Helton and Dylan Shaw threw a combined no-hitter against East Central. Helton went 5.2 innings with no hits, 4 walks, and 11 strikeouts. Shaw followed for the final 1.1 innings with no hots, 2 walks, and 2 strikeouts. Helton, Saben Schnebelt, Austin Weimer, and Matt Ohlhaut each had an RBI for Lawrenceburg. No EC hitter had a hit, but Jake Jennings and Reid Cleary had a walk and sac fly, respectively, to bring in a run.
Batesville 3, South Dearborn 2 - SD scored first in the first inning on an RBI double by Brady Fentress, scoring Ethan Getz who led off the inning with a double. After Batesville scored an unearned run to tie the game in the second, the Knights took the lead in the fourth when Grant McLane doubled and then scored on an error. The Bulldogs loaded the bases with nobody out in the 5th and managed to push 2 runs across the plate, and the Knights could not answer. McLane ended up with 2 hits on the night and Jace Leonard also added a single. Knights' pitchers Trey Thies, Fentress, Adam Rose, McLane and Derek Williams combined for 10 strikeouts while allowing only 4 hits and 1 earned run. –SouthDearbornAthletics.com
Jac-Cen-Del 9, Milan 8 – JCD freshmen Cameron Gehl and Miles McAdams each had a hit and 2 RBI.
GIRLS TENNIS
IHSAA Sectional 57 at South Dearborn – First Round
Oldenburg Academy 5, South Dearborn 0 – Oldenburg advances to paly Milan in the sectional semi-final round on Friday, May 18.
Batesville 5, Lawrenceburg 0 – Batesville will meet East Central in the sectional semi-final round on Friday, May 18.
SOFTBALL
Lawrenceburg 11, Batesville 6
Shelbyville 5, East Central 4
Franklin County 11, Greensburg 2 – Franklin County completes the regular season with a record of 22-5.
TRACK & FIELD
IHSAA Boys Track & Field Sectional at East Central
Just as the Lady Trojans did on Tuesday, the East Central boys track team claimed the team title at the IHSAA Sectional Track & Field Meet on Thursday. On their home field competing against 12 other schools, EC gained 148.5 points to beat out Franklin County's 119.83, Lawrenceburg's 82, and Batesville's 82.
Sectional champions in each event included:
100 meter dash - Mitchell Orschell, Franklin County, 11.28 seconds
200 meter dash – Mitchell Orschell, Franklin County, 22.88 seconds
400 meter dash – Noah Steuer, Lawrenceburg, 52.05 seconds
800 meter run – Cody Moore, Franklin County, 2:03.36
1600 mter run – Joshua Myers II, Batesville, 4:36.79
3200 meter run – Joshua Myers II, Batesville, 10:20.90
110 meter hurdles – Mason Parris, Lawrenceburg, 15.28 seconds
300 meter hurdles – Mason Parris, Lawrenceburg, 41.06 seconds
4x100 meter relay – East Central (Erik Perkins, Alex Hornback, Keiton Goeldner, Logan Storie), 43.90 seconds
4x400 meter relay – East Central (Alex Hornback, Nathan Griffin, Chase Ludwig, Keegan Moster), 3:32.02
4x800 meter relay – Batesville (Joseph Choi, Hylton-Quinten Gowdy, James Kuisel, Adam Moster), 8:25.73
High jump – Malachai Studer, East Central, 6'2"
Pole vault – Austin Hermann, Franklin County, 12'0"
Long jump – Mitchell Orschell, Franklin County, 20'8"
Shot put – Mason Parris, Lawrenceburg, 54'7"
Discus throw – Eyan Peelman, Lawrenceburg, 150'3"
The top three placers in each event qualify for the IHSAA Regional to be held at Franklin Community High School on Thursday, May 24. Find full sectional meet results at http://www.stuartroadracing.com/track/2018-5-17%20IHSAA%20East%20Central%20Boys%20Sectional%2024%20Results.htm.