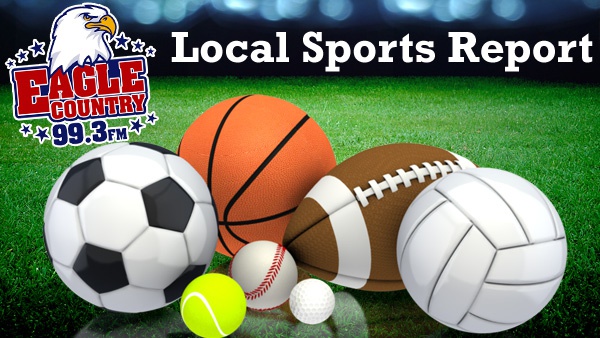 Batesville and Franklin County share the 2019 EIAC baseball championship. Switzerland County's Zach Howlett is a sectional champion in the shot put.
Please report missing scores and statistics to 888-537-9724 or email sports -at- eaglecountryonline.com.
FRIDAY, MAY 17
BASEBALL
Hauser 7, East Central 5
Carmel 12, South Dearborn 3
Franklin County 11, Cambridge City Lincoln 1 – Franklin County's Dominic Reeves was 1-for-3 with 3 RBI and a run scored. Alex Bischoff and Tommy Ratz each had 2 RBI in the game. Jimmy Disney was the winning pitcher with 2 strikeouts, a hit, and a walk allowed in 3.1 innings of work.
Southwestern 10, Jac-Cen-Del 3 – Logan Drockelman fueled JCD's offense with 3 hits and 2 RBI.
SOFTBALL
Southwestern 12, Jac-Cen-Del 2
GIRLS TENNIS
IHSAA Sectional 13 at Connersville – Championship
Franklin County 5, Rushville 0
TRACK & FIELD
IHSAA Boys Track & Field Sectional at Jeffersonville
The rain-delayed sectional meet finished up on Friday at Jeffersonville High School. Switzerland County's boys team finished ninth out of 12 teams. Switz's Zach Howlett claimed the sectional championship in the shot put with a distance of 47'3". He was also second in the discus at 130'8". View full meet results at https://www.athletic.net/TrackAndField/MeetResults.aspx?Meet=382477&show=all.
SATURDAY, MAY 18
BASEBALL
South Ripley 4, Lawrenceburg 3
Lawrenceburg 7, South Ripley 6
Way to finish strong boys! Two good games today. First game SR-4 Lawrenceburg-3. Second game SR-6 Lawrenceburg-7, it was a close one to the end!! Way to fight now let's prepare and play hard in the Sectional!! #raiderbaseball

— SouthRipleyBaseball (@CoachSFranklin) May 18, 2019
Batesville 2, South Dearborn 1 – Batesville claim a share of the 2019 EIAC baseball title, finishing the regular season with an overall 15-11 record. East Central, South Dearborn and Franklin County become the EIAC co-champs. Batesville's Casey Werner earned the win with just one earned run allowed over 5 innings. Lane Oesterling pitched the final two innings to earn the save.
With a 2-1 win over South Dearborn today, the Bulldogs win the EIAC (co-champs) for the first time since 2010.

Casey Werner: W, 5 IP, 1 ER
Lane Oesterling: 2.0 IP, Save

The Bulldogs finish the regular season at 15-11. We open up against Rushville on Thursday in Sectionals. pic.twitter.com/7llyRVCq8T

— Batesville Baseball (@BatesvilleBB) May 18, 2019
Rising Sun 3, Landmark Christian 1 – Landon Cole had a double and an RBI for Rising Sun. Steven Jimenez had a double while Jacob Bovard added a triple. Starter Brayden Bush struck out 13 hitters while giving up just 2 hits, 4 walks, and one unearned run in 5 innings.
Jac-Cen-Del 11, New Washington 1 – JCD amassed 13 hits in the win. Dustin Herbert had a double and 3 RBI. Corey Hughes and T.J. Menchhofer each had 2 RBI. James Burford was the winning pitcher with 8 strikeout, 1 hit, and 3 walks in 5 innings.
Oldenburg Academy 5, Rushville 4
SOFTBALL
Connersville 15, Lawrenceburg 0
East Central 12, Jennings County 8 – EC's Megan Kincer hit a solo homer. Emma Ertel and Lindsay Henson each had 2 RBI. Henson also earned the pitching win with 5 Ks over 5.2 innings.
Jennings County 12, East Central 0 – East Central was limited to just three hits in the game.
Union County 7, Franklin County 1 – Franklin County's only run was batted in by Abby Orschell with a double.
Mt. Vernon Tournament
Rising Sun 8, Centerville 1 – Rising Sun starter Sydney Pitts went 6 innings with 5 K, a hit, and a walk allowed. Sydney Bostic was 1-for-3 with 3 RBI. Lindsay Montgomery was 1-for- 4 with 3 RBI and a run scored. Cora Poling added a home run and 2 RBI.
Mt. Vernon 13, Rising Sun 3 – Mt. Vernon out-hit Rising Sun 16-7. Lindsay Montgomery was 1-for-3 with a home run, 2 RBI and 2 runs scored.
BOYS GOLF
Southwestern picks up the title shooting a 334 at The Links at Rising Star Casino. Milan was second with 343, Switzerland County third at 390, Rising Sun fourth at 396, and Jac-Cen-Del fifth at 451. Southwestern's Austin Kramer was the conference meet medalist with a round of 74.
ORVC Golf All- Conference Team pic.twitter.com/micFkvxlsA

— Rising Sun Shiners (@rsshiners) May 19, 2019
GIRLS TENNIS
IHSAA Sectional 16 at South Dearborn – Championship
Oldenburg Academy 5, East Central 0