New records were set by East Central and Franklin County athletes at the IHSAA Girls Track & Field Sectional Meet on Tuesday. Find local varsity sports scores with one click, presented by Beacon Orthopaedics & Sports Medicine.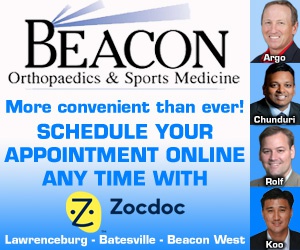 Please report missing scores to 888-537-9724 or email sports -at- eaglecountryonline.com.
BASEBALL
New Castle 10, Franklin County 4
Lawrenceburg 10, Milan 0 – Lawrenceburg's Eli Helton hit a two-run homer in the win. Saben Schnebelt was 2-for-3 with 2 RBI and 2 runs. Tigers pitchers Gunner Howard, Matt Ohlhaut, and Dylan Shawe combined to give up just two hits and 3 walks while striking out 4 Milan batters.
Rising Sun 20, Shawe Memorial 2
Switzerland County 12, Jac-Cen-Del 2
BOYS GOLF
Batesville won a three-team match shooting a 158, Southwestern was 2nd with a 165 and Rising Sun 3rd at 205. Batesville's Ross Harmeyer was the meet medalist with a low score of 36 (2 over par).
SOFTBALL
Greensburg 5, Lawrenceburg 0
East Central 7, Franklin County 5 – Franklin County's Kamryn McCool took the loss, but only after she pitched all 12 innings and racked up a school record 19 strikeouts.
South Dearborn 8, Madison 3 – South Dearborn's Alexis Dittmer went 2-for-3 with a double, 2 RBI, and 2 runs scored. Robyn Willoughby was 2-for-3 with an RBI and a run scored. Pitcher Olivia Nagel went all 7 innings with 4 strikeouts, no walks, 7 hits, and no earned runs allowed.
Milan 3, Batesville 1 – Taryn Cline earned the complete game pitching win for Milan with 4 K's, 7 hits, no walks, and one earned run allowed. Milan's RBIs were recorded by Jordan Healy, Alexa Burton, and Taryn Cline. Kylie Laker knocked in Batesville's lone run.
TRACK & FIELD
IHSAA GIRS TRACK & FIELD SECTIONAL MEET
The East Central Trojans claimed another sectional championship on Tuesday at the IHSAA Sectional Meet held at Franklin County High School. Of 13 schools, Franklin County was second in the team standings, followed by Greensburg and Batesville.
East Central's Evan Grimm set a new sectional record in the 200 meter dash with a time of 25.87. Grimm was also part of the 4x100 meter relay team, which won and set a new record of 49.74 seconds.
Franklin County sophomore Ashlan Hill set a new meet record with a distance of 18' 2" in the long jump.
Other event winners included:
100 meter dash – Eva Grimm, East Central, 12.63 seconds
400 meter dash – Emma Fey, East Central, 1:00.92
800 meter run – Abigail Bittner, East Central, 2:25.64
100 meter hurdles – Audrey Griffin, East Central, 15.77 seconds
300 meter hurdles – Eva Quinlan, South Dearborn, 45.60 seconds
4x400 meter relay – East Central, 4:07.49
4x800 meter relay – East Central 10:00.00
High jump – Eva Quinlan, South Dearborn, 5' 2"
Pole vault – Mary Bertke, East Central, 9' 6"
Discus – Logan Cox, East Central, 113' 5"
The top three finishers in each event advance to the IHSAA Girls Track & Field Regional at Shelbyville High School on Tuesday, May 22. View full meet results at http://www.stuartroadracing.com/track/2018-5-15%20IHSAA%20Franklin%20County%20Girls%20Sectional%2024%20Results.htm.
Our 4x100 was on fire tonight! Congratulations to Brianna Lobenstein, Taylor Messmore, Audrey Griffin, and Eva Grimm for breaking the stadium, sectional and school record!! That was the last school record Coach Patterson held. It's time to pass it off! @ECTrojanSports pic.twitter.com/yhl6fQ9vFy

— Ashley Andres (@ECentralTrack) May 16, 2018
Unbelievable...
🚨🚨🚨🚨🚨🚨🚨

Ashlan Hill breaks the school record, stadium record, sectional record and wins sectional with a jump of 18' 2".

That's EIGHTEEN FEET TWO INCHES!!! pic.twitter.com/4NMJN8HD32

— Mr. Davidson (@MrDavidson23) May 16, 2018
Alyssa Brinkman broke her own 800m Run school record tonight with a time of 2:30.4. Congratulations! #leaveyourmark pic.twitter.com/rTGDDaHZVI

— Milan Track & Field (@MilanTrack) May 16, 2018
Congratulations to Switzerland County's Leah Anders on being girls track sectional champion in the 800 and Aleiah Thomas as sectional champion in the high jump. pic.twitter.com/TGbiyHKJri

— James Pence (@jpencesports) May 16, 2018
SWITZ COMPETES AT JEFFERSONVILLE TRACK & FIELD SECTIONAL
Switzerland County's Leah Anders was the sectional champion in the 800 meter run. Teammate Aleiah Thomas became the champ in the high jump.