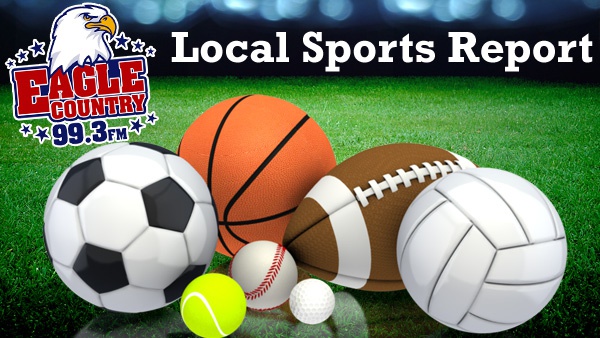 Local athletes represented their schools well at the IHSAA Track & Field State Finals on Saturday.
Please report missing scores and statistics to 888-537-9724 or email sports -at- eaglecountryonline.com.
BASEBALL
IHSAA 3A Regional at Evansville Bosse
Silver Creek 10, South Dearborn 6 - South Dearborn's excellent year is ended at the regional round.
IHSAA 1A Regional at Morristown
Shakamak 3, Rising Sun 2 - Rising Sun's great season ends at the regional opener. Jacob Bovard went 3-for-4 with 2 RBI for the Shiners. Brayden Bush pitched well with 9 Ks and just 5 hits and 4 walks surrendered in 5 innings of work.
TRACK & FIELD
IHSAA Girls Track & Field State Finals
Local schools were represented at the IHSAA Girls Track & Field State Finals at Indiana University on Saturday. South Ripley standout senior Megan Cole wrapped up her stellar high school career with a time of 11:32.28 in the 3200 meter run, good for 22nd place.
South Dearborn's Eva Quinlan finished 18th in the 300 meter hurdles with a time of 46.83 seconds.
East Central was well-represented at the state mett. The EC 4x800 meter relay team of Lily Greiwe, Emilee Wedding, Ellie Lengerich, and Emma Fey placed 20th with a time of 9:43.48. The 4x100 meter relay squad of Brianna Lobenstein, Elicia Rosemeyer, Emma Fey and Eva Grimm were 21st at 49.44 - a new school record. The 4x400 meter relay team of Grimm, Lengerich, Greiwe, and Fey were 15th at 4:01.33. In the pole vault, EC's Casey Johnson placed 23rd at a height of 10'6".
Complete girls state finals results can be found at http://www.ihsaa.org/Portals/0/girls%20sports/girls%20track/2018-19/201819StateResults.pdf.
This group broke a handful of school records. They had a lot of season bests at state. They took it to the next level at practice during the post-season. We are so proud of these guys for having such an amazing season! @ECTrojanSports @CoachMeganEC pic.twitter.com/7LkL3TELTo

— Ashley Andres (@ECentralTrack) June 2, 2019
Thanks to Board Member Randy McIntosh for sending these pics of Megan Cole participating in the @IHSAA1 Track State Championship in the 3200 M Run. Great job, Megan! Raider Nation is proud of you! #RaiderPride pic.twitter.com/ytaTWbitHQ

— South Ripley Schools (@SR_Raiders) June 2, 2019
IHSAA Boys Track & Field State Finals
The boys state finals were also held Saturday at IU.
East Central had four individuals or teams at state. The best finish was by Alex Hornbach, who was 11th in the 100 meter dash at 10.84 seconds. The EC 4x100 meter relay team of Erik Perkins, Chase Ludwig, Keiton Goeldner, and Alex Hornbach were 18th at 43.02 seconds. Malachi Studer posted a height of 6'4.5" to finish 22nd in the high jump. The 4x400 meter relay team was DQ'ed for interference.
South Dearborn's Nathan Pruitt placed 19th in the shot put. The sophomore threw the ball 52'11.25".
Milan's Matthew Riehle, a junior, was 15th in the 400 meter dash with a time of 49.52 seconds.
Adam Moster represented Batesville at state in the 800 meter run, where he finished 8th with a time of 1:57.29.
Full IHSAA Boys Track & Field State Finals results are available at http://www.ihsaa.org/Portals/0/boys%20sports/track/2018-19/201819StateResults.pdf.
A huge congratulations to Adam Moster for placing 8th in the 800 M Run at the State Finals held at Indiana University tonight! He ran a 1:55.02, tying the Batesville High School school record!!!!! Way to go, Adam! We are so proud of you. Go Dogs! pic.twitter.com/R3uudia8OA

— Emily Weberding (@EmilyWeberding) June 1, 2019
Matt finished 15 overall in the state. Way to compete. Proud to be an Indian. pic.twitter.com/aZNeMO9F3u

— Milan Athletics (@MilanAthletics) May 31, 2019
BOYS GOLF
IHSAA Sectional at Greensburg Country Club
Thirteen teams met for the sectional tournament at Greensburg Country Club on Saturday, with Columbus North emerging as the top team with a low score of 294. Columbus East was second with 319 and Greensburg fourth at 324. South Dearborn's 325 was good for fourth place, led by regional qualifier Andrew Miller, who carded a round of 79. Other local regional qualifiers were Milan's Josh Clark with a 79 and Oldenburg Academy's Andrew Wagner with a 78. Full sectional meet results are available at http://www.ihsaa.org/Portals/0/boys%20sports/boys%20golf/2018-19/201819GreensburgSectional.pdf.