East Central dominated at the IHSAA Wrestling Sectional at South Dearborn, plus plenty of scores in boys and girls hoops.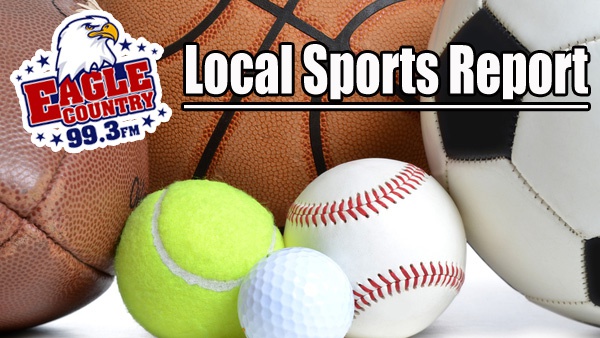 Report missing high school sports scores and stats to news@eaglecountryonline.com.
FRIDAY, JANUARY 29
BOYS BASKETBALL
South Ripley 47, Lawrenceburg 43 (Feature Game) - The Raiders jumped out to a 15-10 lead after the 1st quarter and never looked back. The Tigers kept it close for a majority of the game, but could never gain the lead thanks to some timely baskets from Jaden Peetz and Cody Samples. Samples finished the game with 16 points, while Peetz had 15. Zach Gentile added nine points for the Raiders and Bryce Franklin chipped in with seven points of the bench. Lawrenceburg junior Dahya Patel led all scorers with 19 points. Garrett Yoon had nine points for the Tigers.
South Dearborn 63, Rushville 42 - The Knights pick up another EIAC win behind 18 points from Tobie Teke. Eli Hoffman had 13 points and Quentin Stevens finished with 12.
East Central 79, Columbus East 70 - Luke Collinsworth poured in 35 points and added 12 rebounds in the win. Ryan Sehlhorst added 14 points and Logan Rohrbacher had 12 for the Trojans.
Batesville 65, North Decatur 46
Jac-Cen-Del 69, Oldenburg Academy 51
Rising Sun 68, Shawe Memorial 38
Southwestern (Hanover) 84, Milan 69 - Five Rebels players finished in double-figures, including Austin Kramer with 23 points.
New Washington 50, Switzerland County 44
GIRLS BASKETBALL
Rising Sun 47, Shawe Memorial 26 -
SATURDAY, JANUARY 30
BOYS BASKETBALL
Greensburg 59, Lawrenceburg 52 - Lawrenceburg fell behind 16-7 at the end of the 1st quarter, but clawed back into the game, outscoring the Pirates 18-8 in the 2nd quarter. But Lane Sparks was too much for the Tigers, scoring a game-high 27 points. Ki Dyer added 16 points for the Pirates. Lawrenceburg was led by Garrett Yoon with 17 points. Adam Burd finished with 11 for the Tigers.
Beechwood (Ky.) 77, South Dearborn 49
Batesville 53, Hauser 38
Milan 54, Switzerland County 42
Rising Sun 59, Waldron 51
Talawanda (Oh.) 60, Franklin County 46
GIRLS BASKETBALL
Lawrenceburg 45, Greensburg 43 (OT) - Four quarters couldn't decide this matchup as the Lady Tigers and Lady Pirates went back-and-forth all game. Lawrenceburg would outscore Greensburg 6-4 in the overtime period to score the win and finish 2nd in the EIAC. Kirsten Cross led the way with a game-high 19 points. Kierah Lowe had 12 points and Lizzie Redar added eight points.
Franklin County 51, Milan 43
South Decatur 51, Rising Sun 43
WRESTLING
IHSAA Sectional Round at South Dearborn
Team Scores:
East Central 302
South Dearborn 153.2
Lawrenceburg 138
Franklin County 103.5
Union County 103
Batesville 98.5
Rushville 97
Connersville 78
Greensburg 75
Milan 67
Oldenburg Academy 0
Congratulations gentlemen! 🤼‍♀️ @ectrojanwrestle What a phenomenal day at Sectionals! Moving on to Regionals!! #WeAreEC pic.twitter.com/ZafydgwzdT

— East Central HS (@EastCentralHS) January 30, 2021
Individual winners:
113 - Carson Whitehead - EC
120 - Dylan Lengerich - EC
126 - Blake Wolf - EC
132 - Evan Seal - Franklin County
138 - Corbin Walston - Lawrenceburg
145 - Eli Otto - South Dearborn
152 - Ben Wolf - East Central
160 - David Nash - East Central
170 - Bryer Hall - East Central
182 - Samuel Ringer - East Central
195 - Ryan Bovard - East Central
220 - Kole Viel - East Central
Other area wrestlers advancing to Regionals include:
106 - Caleb Prozanski (Milan)
113 - Nicholas Tacoma (Batesville) / Javier Payne (Lawrenceburg)
120 - Trent Burdette (Milan) / Seth Markel (Lawrenceburg)
126 - Isaiah Otto (South Dearborn)
132 - Ashton Myers (Milan) / Tanner Busch (East Central) / Tyler Schaeffer (Batesville)
138 - Rider Searcy (East Central)/ Adam Crouch (Franklin County)
145 - Charlie Euson (East Central) / Mason Neely (Batesville) / Brock Bohman (Franklin County)
152 - Josh Mobley (Batesville) / Dominic Tribble (Lawrenceburg)
160 - Blake Bartley (South Dearborn)
170 - Cooper Barker (South Dearborn) / Hayden Nevell (Franklin County)
182 - Jacob Weigel (Batesville) / Kenneth McGill (South Dearborn)
195 - Noah Rowlett (Lawrenceburg) / Chase Hamilton (Batesville)
220 - Chase Emmert (South Dearborn) / Micah Foster (Lawrenceburg)
285 - Alex Kemper (South Dearborn) / Austin Cox (East Central) / Clayton Bolser (Franklin County)