An East Central wrestling star wins a State Championship, and Lawrenceburg and South Dearborn go into OT in what could be the Game of the Year.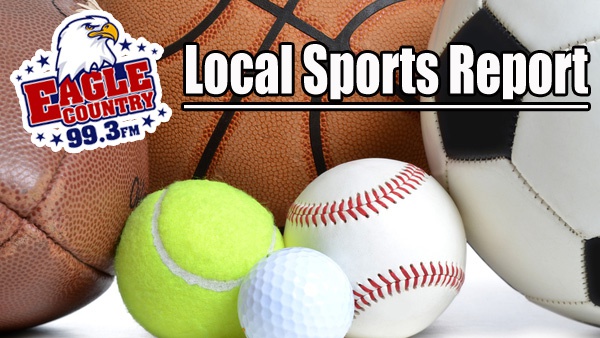 Report missing high school sports scores and stats to news@eaglecountryonline.com.
FRIDAY, FEBRUARY 19
BOYS BASKETBALL
Lawrenceburg 58, South Dearborn 55 (OT) - Eagle Country 99.3 Feature Game - South Dearborn led the game 12-5 at the end of the first quarter. The Knights would continue to hold a seven or eight point lead for a majority of the game. Lawrenceburg battled back in the second half behind strong performances from Jackson Bobo, Dahya Patel and Garrett Yoon. Logan Rohrer played a key role in the victory as well with 8 points off the bench. With 4.9 seconds left in the game, trailing by three, Bobo deflected an inbound pass which found the hands of Ashton Craig. He handed the ball off to Yoon, who nailed a game-tying three as time expired - sending the game to overtime. The Tigers outscored the Knights 9-6 in the overtime period to complete the comeback win. Yoon led the Tigers in scoring with 17 points. Patel added 14. Eli Hoffman led all scorers with 20 points. Isaiah Jefferson chipped in with 11.
South Ripley 92, Rising Sun 58
Connersville 48, Franklin County 24
Greensburg 69, Rushville 18
SATURDAY, FEBRUARY 20
BOYS BASKETBALL
South Dearborn 60, Switzerland County 32
Connersville 36, Lawrenceburg 32 - Both teams combined for 47 shot attempts. The Tigers shot 10-22 and committed 14 turnovers. Jackson Bobo had a solid game with 13 points and 7 rebounds. Garrett Yoon added 6 points. Cole Martin led Connersville in scoring with 10 points. With the win, the Spartans wrapped up the EIAC Championship with a 7-0 record in conference play.
Shelbyville 61, East Central 56 - Logan Rohrbacher joins 1,000 career point club.
South Ripley 71, Greensburg 65 - South Ripley's winning streak extends to 14 games.
Jac-Cen-Del 83, Milan 78
Oldenburg Academy 55, Rushville 34
Southwestern (Shelbyville) 65, Rising Sun 43
WRESTLING
IHSAA Wrestling State Championship at Bankers Life Fieldhouse
170 - East Central's Bryer Hall captured the State Championship a year after finishing as the runner-up. Hall is one of nine wrestlers in state history to pin all four of his opponents at the State Finals.
February 21, 2021
CONGRATULATIONS BRYER HALL!! @IHSAA1 State Wrestling 170# CHAMPIONS!! Bryer is one of only 9 other athletes in @IHSAA1 wrestling history to pin all 4 of his opponents in state finals! WAY TO GO Bryer!! #WeAreEC

— East Central HS (@EastCentralHS) February 21, 2021
126 - East Central's Blake Wolf lost 7-2 in the first round to the eventual runner-up Cheaney Schoeff (Avon). Wolf finishes the season with a 28-3 record.
145 - South Dearborn's Eli Otto was defeated 6-3 in the first round by eventual runner-up Hayden Watson (Center Grove). Otto went 35-4 this season and eclipsed 100 wins for his career.
152 - East Central's Ben Wolf (26-5) was knocked out of the tournament in the first round by Crown Point's Javen Estrada (MD 10-0).
220 - Kole Viel defeated Franklin Central's Aataeveon Jordon by fall in the 7th place match.
SWIMMING & DIVING
IHSAA Boys Swim Sectional at Columbus North
Team Scores:

                1 Bloomington North                  BHSN            425 
                2 Columbus North                     COLN            367 
                3 East Central                       ECEN            349 
                4 Bloomington South                  BHSS            264 
                5 Columbus East                      COLE            236 
                6 Batesville                         BATE            150 
                7 Milan                              MILN            108 
                8 Greensburg                         GBUR             97 
                9 South Dearborn                     SD               78 
               10 Oldenburg Academy                  OLD              61 
               11 Lawrenceburg                       LBUR             52 
               12 Edgewood                           EDGE             24 
               13 South Ripley                       SRIP             16
Individual winners:
50 Yard Freestyle - Nick Weber, East Central
1 Meter Diving - Bailey Whitelock, South Dearborn
100 Yard Butterfly - Skyler Cavins, East Central
100 Yard Freestyle - Nick Weber, East Central
200 Yard Freestyle Relay - Ayden Ketchum, Matthew Badinghaus, Henry Strotman, Nick Weber (East Central)