Tuesday was a busy day in local high school sports, but we have it all covered. Find local varsity sports scores with one click, presented by Beacon Orthopaedics & Sports Medicine.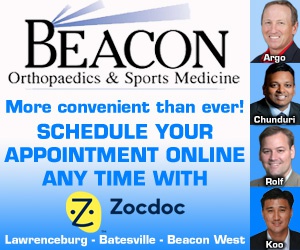 Please report missing scores to 888-537-9724 or email sports -at- eaglecountryonline.com.
BOYS SOCCER
East Central 8, Connersville 1 – EC was up 6-1 by halftime. Trojan players scoring two goals included J. Tiemann and Cole Norman. Others scoring single goals were Luke Hornbach, Evan Spangler, Alex Hornbach, and Nathan Zillick. Assists were made by Peyton Wilhelm, Colden Whitt, Brady Spangler, Cole Norman, and Caden Browndyke.
South Dearborn 4, Jennings County 1
Franklin County 6, Greensburg 4 – Tied 4-4 at the end of regulation, the match went to double overtime, where Franklin County won 2-0 on penalty kicks.
BOYS TENNIS
East Central 3, South Dearborn 2
CROSS COUNTRY
Moores Hill Meet
EC Cross Country dominates the South Dearborn 4-way meet taking top 5 spots for both teams. Great race Trojans! pic.twitter.com/TZyhgUKaGa

— EC Cross Country (@kdwedding) August 22, 2018
East Central dominated a tri-meet against Lawrenceburg, South Dearborn, and Milan at the cross country course in Moores Hill on Tuesday. In the boys competition, EC won the team title, followed by South Dearborn and Lawrenceburg. Senior Trojan Garrett Ardis was the race winner with a time of 19:17, followed by teammate Kyle Gutfreund in second at 19:24. EC had the top 7 finishers. For the girls, East Central was followed in the team standings by South Dearborn, Milan and Lawrenceburg. Junior Emilee Wedding won the race in 21:48, with Lauren Greiwe in second at 22:12, then another set of Trojans in third through fifth place. Find full meet results at http://www.stuartroadracing.com/crosscountry/2018-8-21%20SD%20Quad%20Girls%20Var.pdf.
GIRLS GOLF
Franklin County out-shot East Central 180-219 during a meet at Grand Oak Golf Club in West Harrison on Tuesday. FC's Abby Orschell was the medalist with a low score of 41. Maggie Brack was second with a 42. East Central's top performer was Taylor McCreary with a round of 57. EC's Carly Knosp had her personal best of the year with a 57.
Batesville defeated South Dearborn in a head-to-head match Tuesday. McCreary posted a score of 41 for BHS.
GIRLS SOCCER
Lawrenceburg 8, Rising Sun 0 – Lawrenceburg's Jenna Farmer recorded a hat trick with 3 goals. Hannah Brayton added 2 more goals for LHS. Other goals were netted by Chloe Rutzel, Makenna White, and Ryleigh Offutt. Erin Hill made a save in the net.
VOLLEYBALL
Lawrenceburg 3, Greensburg 0 – 28-26, 25-20, 25-22 – Tiger freshman Cora Taylor had 15 kills, 13 digs, a block and an ace. Emma Sandford racked up 15 digs and an ace. Juliana Kemper had 13 kills, 3 blocks, and an ace. Grace Taylor made 32 assists.
Connersville 3, South Dearborn 0 – 25-17, 25-17, 25-17 – Allyson Kunkel put up 9 digs and 5 kills for South Dearborn. Teammate Jaelynn Lows had 4 kills, 3 blocks, 4 assists, and 2 digs. Sydney Brandt made 9 digs.
East Central 3, Rushville 0
Batesville 3, Franklin County 0 – 25-17, 25-23, 25-12 – Hattie Westerfeld led Batesville with 10 kills, an ace, and a block. Jenna Ertel had 2 kills, 2 aces, and 11 digs. Macy Prickel picked up 12 digs and 7 kills. Kylie Laker served four aces, a kill, and four blocks. For Franklin County, Jalynn Rogers had 5 digs and 1 ace. Megan Getz had 4 digs, 5 assists and 1 kill. Kelly Layton had 3 digs and 4 assists. Meredith Bohman had 1 solo block, 2 ace serves and 3 kills.
Milan 3, South Decatur 0 – 25-18, 25-9, 25-18
Rising Sun 3, Oldenburg Academy 1 – 25-20, 20-25, 25-22, 25-20 – Danyka Groover paced Rising Sun with 11 kills and 11 blocks. Tyrrah Miller had 12 digs, 3 aces, and a kill. Lindsay Montgomery had 12 digs, 8 kills, and 4 blocks for the Shiners.
Varsity Volleyball

Rising Sun over @OAAthletics

25-20, 20-25, 25-22 & 25-20.#GoShiners @orvcsports @ihsvca pic.twitter.com/lH1J97LIz2

— Rising Sun Shiners (@rsshiners) August 22, 2018
South Ripley 3, Switzerland County 0 – 25-17, 25-21, 25-22
Shawe Memorial 3, Jac-Cen-Del 2 – 23-25, 25-15, 27-25, 25-27, 15-12