Local cross country teams dodged the rain in running their competitions Wednesday. Find local varsity sports scores with one click, presented by Beacon Orthopaedics & Sports Medicine.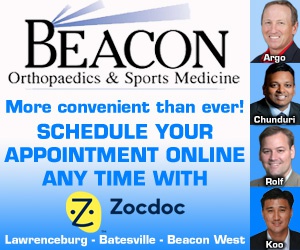 Please report missing scores to 888-537-9724 or email sports -at- eaglecountryonline.com.
CROSS COUNTRY
Tri Cross Country Meet
Rising Sun boys and South Dearborn girls were the winners of a tri-meet in Moores Hill on Wednesday. Rising Sun's Dalton Vinup, a sophomore, was the boys individual champ with a time of 20:02. Teammate Grant Taylor, a freshman, was third at 21:19. South Dearborn's Brandon Frazier placed second by crossing the finish line at 20:39. Lawrenceburg's Ethan Smith was fourth at 21:47.
In girls competition, Lawrenceburg junior Hannah Morgan won the race in 23:22. South Dearborn's Rachel Rohe was second at 23:40. Rising Sun was led by Maddy Bovard in sixth place at 26:46.
Union County Early Bird Invitational
Franklin County's boys runners placed fourth out of six teams at the first meet of the year in Liberty on Wednesday. FC sophomore Andrew Grant led the Wildcats by placing ninth with a time of 18:56. Franklin County girls did not have enough participants to qualify for a team, but senior Taylor Stewart placed 11th at 24:56.
GIRLS GOLF
Southwestern shot a 225 in a three team meet with Milan and Switzerland County. Milan and Switzerland Co. did not field full teams. Bella Marcum of Southwestern was medalist at 53. Annabelle Bear and Sierra Hamilton both shot 64 for Switzerland Co. and Lyndsey Tuttle a 65 for Milan.
GIRLS SOCCER
South Dearborn 4, Boone County 3
Milan 4, South Ripely 0 – Milan's Liz Sutherlin scored twice to help the Indians get the win over their in-county rival. Lily Phelps and Jordan Combs also netted goals for Milan.
VOLLEYBALL
Oldenburg Academy 3, Switzerland County 0 – 25-22, 25-20, 25-22