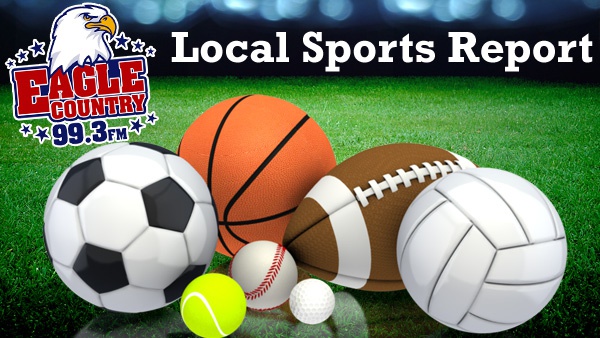 Rising Sun's Sydney Pitts hit two home runs in a Shiners win Thursday.
Please report missing scores and statistics to 888-537-9724 or email sports -at- eaglecountryonline.com.
BASEBALL
Lawrenceburg 8, Greensburg 6 – Six Lawrenceburg hitters had one RBI: Mitch McCool, Gunner Howard, Peyton Hartman, Brayden York, Mason Kennedy, Ethan Weimer, and Logan Tingle. McCool, Howard and Hartman each had two hits.
East Central 5, Franklin County 3 – EC starting pitcher Simon Williams earned the W by racking up 7 Ks and giving up just 3 walk, 3 hits, and no earned runs in 6.0 innings of work. Jack Hutchins had a couple hits including a double. Josh Merkel had a hit and a couple walks.
Connersville 2, Batesville 0 – Batesville's Riley Zink pitched well but took the loss despite going 6.0 innings with 6 strikeouts, 2 walk, 3 hits, and no earned runs allowed. Brayden Linkel, Quinn Werner, and Calvin Sherwood each had a hit for Batesville.
Rising Sun 8, Trinity Lutheran 0 – Rising Sun's Steven Jimenez dominated on the mound with 16 strikeouts while only allowing 4 hits and 3 walks over 7.0 innings. The Shiners had 8 runs on 8 hits. Jimenez, Payton Bell, and Landon Cole each had 2 RBI.
Milan 21, Shawe Memorial 7
South Ripley 14, New Washington 1 – The Raiders went off with 15 hits in the game. Zach Gentile, Kendall Stephen, and Bryce Franklin each had a pair of RBIs. Franklin was 3-for-4 with a pair of runs scored. Aaron Greiwe was 2-for-4 with 3 runs. Three South Ripley pitchers – Greiwe, Gentile, and Franklin – combined to strike out 13 batters in the game.
BOYS GOLF
East Central defeated Lawrenceburg in a head-to-head matchup, 198-244. EC's Kyle Leising was the meet medalist with a low score of 42.
GIRLS TENNIS
East Central 4, Milan 1
Sophs D. Bushhorn and C. McMullen continue their #1 Doubles winning streak (6-3, 6-3) against visiting EC. Junior duo Bailey/Schmidt go the distance before falling in 3 sets with EC pulling out a 4-1 victory over Milan. In JV action, Junior Jessica Starkey wins #1 Singles (8-4).

— Milan Athletics (@MilanAthletics) April 5, 2019
Batesville 4, Connersville 1
SOFTBALL
Greensburg 6, Batesville 5
Franklin County 6, Richmond 4 – Franklin County's Camryn Brewer pitched a complete game for the W, and added a hit and an RBI at the plate.
Rising Sun 13, Trinity Lutheran 2 – The Shiners' Sydney Pitts launched two home runs in the game, ending with 3 hits, 2 RBI, and 3 runs scored. She also earned the pitching win with a 6.0-inning complete game with 8 strikeouts, 5 hits, a walk, and an earned run.
Kassidy Romans knocked a pair of doubles as part of her 3 hits with an RBI and 2 runs.
Jennings County 16, Milan 4 – The Indians were better with 9 hits in the game. Milan's Megan Brown was the bright spot with a hit and 2 RBIs. Courtney Bruns and Erin Widener each had an RBI.
Jennings County 12, Milan 0 – Erin Widener had two hits for Milan, who could only muster 5 hits and a walk in the game.
TRACK & FIELD
Madison boys won a three-team meet over South Ripley and Shawe. Team scoring was Madison 85, South Ripley 45, and Shawe 12.