Rising Sun's baseball and softball teams each owned Trinity Lutheran on Wednesday. Find local varsity sports scores with one click, presented by Beacon Orthopaedics & Sports Medicine.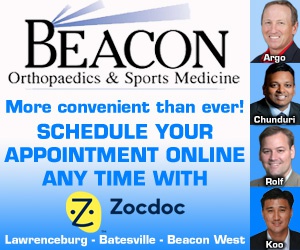 Please report missing scores to 888-537-9724 or email sports -at- eaglecountryonline.com.
BASEBALL
Rising Sun 12, Trinity Lutheran 1 – 5 innings
SOFTBALL
Rising Sun 8, Trinity Lutheran 0 – 6 innings
TRACK AND FIELD
East Central's boys placed second and the girls were fourth out of nine teams participating at the 2018 Coaches Classic on Wednesday. EC's event winners included Maggie Hoog in the 100 girls meter hurdles (18.96 seconds), Julia Williamson in the girls 300 meter hurdles (56.32), Chase Ludwig in the boys 100 meter dash (12.33), Nathan Griffin in the boys 300 meter hurdles (44.95), and Andrew Toney in the boys long jump (16' 7.5").