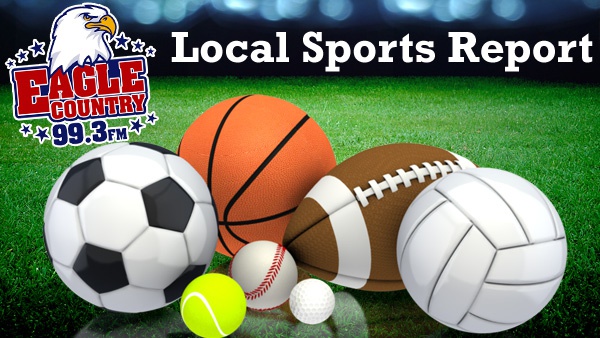 Lawrenceburg's Peyton Hartman hit a walk-off home run Monday.
Please report missing scores and statistics to 888-537-9724 or email sports -at- eaglecountryonline.com.
BASEBALL
Lawrenceburg 6, Connersville 4 – Lawrenceburg got three runs of home runs in the bottom of the 7th. Gunner Howard hit one out of the park to tie the game at 4-4, then Peyton Hartman smacked a walk-off 2-run homer to win it. Howard also pitched the final 2 innings to pick up the win on the mound.
East Central 10, Rushville 0 – East Central's Zach Monhollen dominated on the mound with 4 strikeouts, 4 hits, and 1 walk in 6.0 innings to get the W. Offensively, Monhollen had three hits, an RBI and three runs scored. Jared Reihle added 2 hits for 3 RBI. Gabe Patton hit a home run for EC.
Greensburg 7, Batesville 6 – Batesville's Sam Voegele hit a home run and scored two runs.
South Ripley 14, Shawe Memorial 1 – South Ripley scored 14 runs on 14 hits and 8 walks. Richie Block and Bryer Franklin each tallied 2 hits and 3 RBI. Bryce Franklin added a couple RBIs with 2 doubles. Bryer Franklin earned the win going 6.0 innings with 12 strikeouts, 3 hits, and one walk.
Southwestern 11, Switzerland County 5
SOFTBALL
Lawrenceburg 16, Connersville 12
Harrison (Ohio) 4, East Central 3 – Harrison's Sami Wilkins had two hits and 2 RBI to lead the Wildcats to the win. Reagan Williamson had a homer and a single. Emily Wisman pitched a 7.0 inning complete game with one strikeout, 6 hits, and 3 walks to earn the win. For EC, Ysa Fox, Megan Kincer, and Rachel Rack each had an RBI. Kincer added five strikeouts in four innings of pitching.
South Dearborn 10, Batesville 1 – Kylie Laker knocked in Batesville's only run with a double.
Connersville 8, Franklin County 1
South Ripley 27, Shawe Memorial 1 – South Ripley won big thanks in part to Alexa Heidt hitting for the cycle with 3 runs scored. Mady Tompkins was 3-for-5 with a double and 4 runs. SR pitcher Ellie Waldron pitched 5.0 innings with 6 Ks, 2 hits, and no walks.
Madison 12, Jac-Cen-Del 2
Switzerland County 10, Southwestern 6
BOYS GOLF
Milan won the Ripley County Boys Golf Tournament at North Branch Golf Course on Monday. Milan's team score was 182. MHS' Josh Clark was the county champion with a round of 40.
Milan wins the Ripley Co. tourney shooting a 182 over Batesville and JCD. Josh Clark was low medalist and county champion with a 40. Parker Lewis and Matt Schmitt were also all county. pic.twitter.com/rO9fECuwJS

— Milan Athletics (@MilanAthletics) April 23, 2019
Southwestern won a tri meet against Switzerland County and Rising Sun on Monday. Southwestern 168, Switzerland County 190 and Rising Sun 198.