Rising Sun's softball team exploded for 28 runs Thursday. Find local varsity sports scores with one click, presented by Beacon Orthopaedics & Sports Medicine.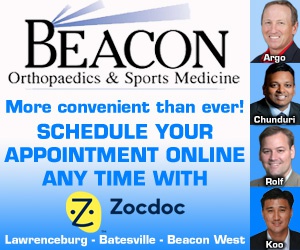 Please report missing scores to 888-537-9724 or email sports -at- eaglecountryonline.com.
BASEBALL
East Central 5, Connersville 3
East Central 9, Connersville 7
Greensburg 14, South Dearborn 12 – South Dearborn's Adam Dixon led the offensive attack for the Knights with 3 hits, including a double and 2 runs scored. Tristan Rinehart drove in 3 of the 14 runs with a double and a sac fly.
Franklin County 4, Batesville 0 – Franklin County pitcher Alex Bischoff tossed an 8.0 inning 1-hitter with 11 Ks and just two walks allowed. He also launched a grand slam home run to plate all 4 FC runs.
Madison 13, Switzerland County 4
BOYS GOLF
South Dearborn defeated Lawrenceburg 5-0 in a 9-Hole Match Play Golf tournament at Dearborn Country Club on Tuesday.
Jac-Cen-Del placed third in a meet against Southwestern and New Washington on Thursday. Scoring: Southwestern 171, New Washington 249, Jac-Cen-Del 287.
GIRLS TENNIS
Batesville 4, South Dearborn 1
SOFTBALL
Greensburg 6, Lawrenceburg 4
Franklin County 2, Milan 0 – Milan pitcher Erin Widener pitched well, going 6.0 innings with 4 strikeouts, one walk, and 6 hits allowed.
Rising Sun 28, Shawe Memorial 0 – The offensive outburst by Rising Sun was powered by 24 hits. Lindsay Montgomery launched two homers and 2 doubles to collect 6 RBI on 4-for-4 hitting. Lucy Phelps collected 3 hits to get 5 RBI and 3 runs scored. Sydney Pitts and Kassidy Romans each had 3 hits with 4 RBI, with Romans also smacking a homer. Pitts threw a 5 inning perfect game with 13 strikeouts.
Trinity Lutheran 11, South Ripley 1
Providence 5, Switzerland County 1
TRACK & FIELD
Batesville ran away with both he boys and girls team titles at the 8-team South Dearborn Invitational on Thursday. In the girls team standings, Franklin County was second and South Dearborn was third. In the boys standings, Franklin County was second and Lawrenceburg placed third. South Ripley junior Megan Cole set a new meet record in the 3200 meter run, completing the event in 11:32.32. Franklin County junior Anna Schatzle won the pole value with a meet record of 10'1". Find all event winners and full meet results at http://www.stuartroadracing.com/track/2018-4-19%20SD%20Invite%20Results.htm.