Lawrenceburg and South Dearborn renewed their rivalry on the baseball diamond Thursday. Find local varsity sports scores with one click, presented by Beacon Orthopaedics & Sports Medicine.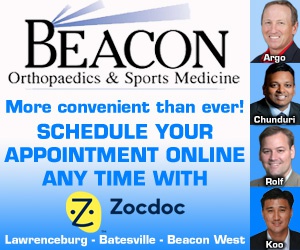 Please report missing scores to 888-537-9724 or email sports -at- eaglecountryonline.com.
BASEBALL
Lawrenceburg 12, South Dearborn 1 – Ethan Getz was 2-for-4 with an RBI for South Dearborn.
East Central 5, Batesville 4 – East Central staved off a 7th inning comeback by Batesville to get the win. Batesville's Quinn Werner was 2-for-2 with a triple, 2 RBI and a run scores.
Oldenburg Academy 21, Jac-Cen-Del 10 – 5 innings
GIRLS TENNIS
Shawe Memorial 4, Lawrenceburg 1 – Lawrenceburg's Averi McMullen defeated Megan Hesse in #1 singles6-2, 4-6, 3-6.
SOFTBALL
East Central 11, South Dearborn 2
Franklin County 4, Batesville 2 – Kamryn McCool struck out 16 Batesville batters and allowed just four hits over seven innings to get the victory. She also led FC at the plate with two hits. Batesville's Kylie Laker hit a two-run home run.
TRACK & FIELD
Switzerland County's girls and Southwestern's boys were the winning teams in a four-way meet at Jac-Cen-Del on Thursday. Boys team standings were Southwestern 84, Jac-Cen-Del 52, Switzerland County 49, and Trinity Lutheran 44. In the girls standings, Switzerland County led with 80 followed by Jac-Cen-Del 59.5, Southwestern 56, and Trinity Lutheran 37.5.