The Lady Tigers will play Sullivan this Saturday in the opening round of the semi-state.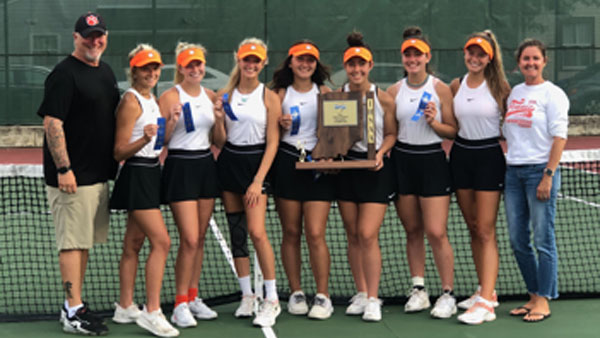 Picture attached from left to right: assistant coach, Justin Blackburn, Ella McAndrew, Calli Pope, Jazzy Blackburn, Evelyn McAndrew, Gracie Safaviyan, Lola Safaviyan, Elle McMullen, head coach Alisa McMullen. Photo by Sharon McAndrew.
(Lawrenceburg, Ind.) - The Lawrenceburg High School girls tennis team is on a roll.
The Lady Tigers captured a Regional Championship on Wednesday night with a 5-0 win over Franklin County, advancing to the Semi-State Championships for only the second time in school history.
Scores:
Elle McMullen, #1 singles: 7-5, 6-1
Gracie Safaviyan, #2 singles: 6-0, 6-2
Evelyn McAndrew, #3 sinlges: 6-4, 6-2
Calli Pope & Ella McAndrew, #1 doubles: 6-3, 7-5
Jazzy Blackburn & Lola Safaviyan, #2 doubles: 6-4, 6-4
Lawrenceburg is 18-2 heading into the semi-state on Saturday, May 29 at Center Grove. The Lady Tigers will take on Sullivan at 4:30 p.m.
Fans Must Purchase Tickets in advance. Tickets are $5 per person and can be purchased at IHSAA Semi-State Tickets.
Below is a link to the Semi-State Information Sheet and to a map of Center Grove High School.
IHSAA Girls Tennis Semi-State Information