The Esports craze has caught on at LHS.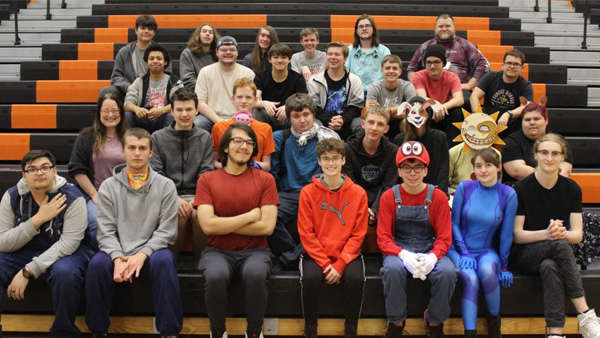 Lawrenceburg High School Esports Team. Row 1 (L-R): Bryan Cole, Gage Garland, Pedro Ramirez, Morgan Lyttle, Tyler Dishneau, Shawna Littrell, Stephen Claydon. Row 2 (L-R): Coach Stegemiller, Camden Mann, Aaron Jordan, Drake Womack, Ethen Becker, Abby Parchman, Ryelee Richardson, Lee LaPlante. Row 3 (L-R): Ethan Harty, Corbin Jacobs, Jacob Souders, Tristan Garland, Devan Baker, Chris Parks, Jesse Markland. Row 4 (L-R): Aaron Summers, Jack Frampton, Nathan Mullins, Konnor Powell, Benjamin Turcott, Coach Thompson Photo provided.
(Lawrenceburg, Ind.) - Things have happened quickly for Lawrenceburg High School's Esports team.
It was just a few years ago when coaches Carrie Stegemiller and Jeff Thompson went to a conference that featured a group from the Indiana Esports Network.
Fast forward to this year and Lawrenceburg's Esports team is finishing up their first competitive season with Indiana High School Esports Network.
But Lawrenceburg isn't phoning in their first competitive season because they are "newbies".
Their Super Smash Brothers (SSB) team has the opportunity to win a state championship on Saturday, May 14.
Lawrenceburg SSB is undefeated this season (one of two undefeated teams in the state), defeating all seven of their opponents during the regular season. They earned the #2 seed in the state tournament earning a bye in the first round. In the second round, Lawrenceburg SSB defeated Wes-Del by a score of 9-0 to advance to the semi-state round where they will take on Mississenawa.
If Lawrenceburg can get past Mississenawa, they will move on to the state championship, which will also be played on Saturday.
"It has been crazy fun," said Stegemiller. "This is the first year we have competed with Indiana High School Esports Network. We've been competing virtual, so any time that we're competitive we've got everyone in there watching. It's become a thing for the team to really be paying attention to what the varsity team is doing."
The varsity SSB team is made up of Gage Garland, Pedro Ramirez, Bryan Cole, Nathan Mullins, Tyler Dishneau, Benjamin Turcott, and Ethan Becker. During competitions there are five starters and two subs.
Lawrenceburg's Esports team goes well beyond SSB thought. Thirty students are part of the team, competing in Smash, League of Legends, Minecraft, and Magic the Gathering.
You can follow along with Lawrenceburg Esports' progress on Twitter @lhsesportstige1. A link to Saturday's semi-state stream will be posted to the Lawrenceburg Esports Twitter page later this week.
The full Lawrenceburg High School Esports roster is listed below.
Pedro Ramirez
Gage Garland
Bryan Cole
Benjamin Turcott
Nathan Mullins
Ethan Becker
Drake Womack
Morgan Lyttle
Shawna Littrell
Aaron Jordan
Javone Mims
Tyler Dishneau
Stephen Claydon
Devan Baker
Ethan Harty
Aaron Summers
Konnor Powell
Tristan Garland
Jacob Souders
Jack Frampton
Chris Parks
Ryelee Richardson
Michael Briede
Lee LaPlante
Miles DeMoss
Jesse Markland
Camden Mann
Abby Parchman
Corbin Jacobs
Joey Chappie