Jackson Ketcham has realized his dream off swimming at the DI level.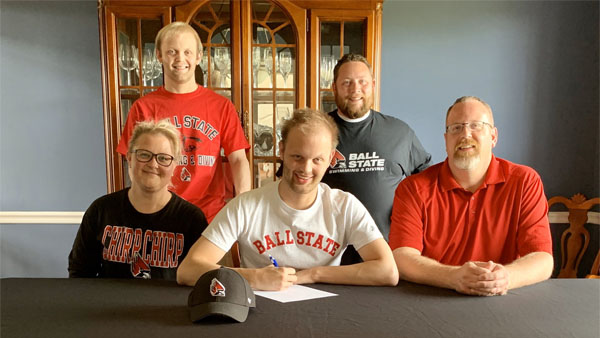 Photo courtesy EC Swim Team.
(St. Leon, Ind.) – Jackson Ketcham says "chirp, chirp".
The East Central High School senior announced Monday that he will continue his academic and athletic career at Ball State University.
During his four years at EC, Ketcham has etched his name among the great swimmers in program history.
Ketcham is a four-time EIAC MVP, an honor only three other EIAC swimmers have earned. He also won sectional championships in the 500 Free, 200 Free and as a member of the 200 Medley Relay team.
The Trojans star is also the EIAC's current record-holder in the 200 Free, 200 Medley Relay and 400 Free Relay
Other accolades include EIAC-All Conference, EIAC All-Academic, Cincinnati Winter All-Star Honorable Mention and a two-time team captain.
Ketcham finished his storied career this past February with a State Finals appearance, finishing 26th in the 500 Free and 26th in the 200 Free.
Ball State is getting a prospect that loves being in the pool. Ketcham has swam with the East Central Swim Team since he was five-years-old. He has been a state qualifier every year since he was 10.
Aside from his impressive accomplishments in the pool, Ketcham is a top notch student. He is the student body president, a student ambassador and an English academic team state champion. He will graduate 9th in his class with a 4.2 GPA.
Ketcham chose Ball State over the University of Indianapolis and Bellarmine University.
At Ball State, Ketcham plans to earn a nursing degree with a minor in business and Spanish.