Gabby Brock received the award at the Cincinnati.com Sports Awards on April 19.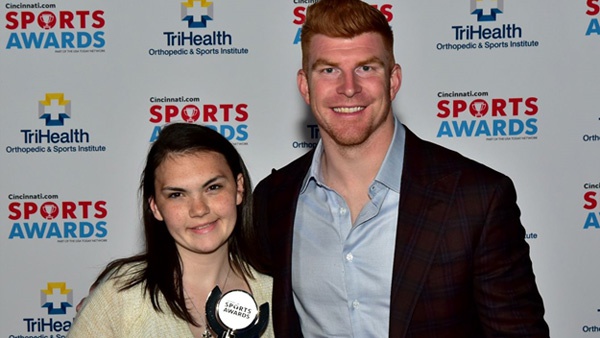 Harrison High School's Gabby Brock won the Cincinnati.com Sports Awards' 2019 Girls' Special Olympic Athlete of the Year. She got her picture taken with Cincinnati Bengals quarterback Andy Dalton. Photo credit Cincinnati.com.
(Harrison, Oh.) - Harrison High School junior Gabby Brock won the 2019 Girls 'Special Olympic Athlete of the Year award at the Cincinnati.com Sports Awards.
Brock who participates in gymnastics, soccer, basketball, swimming, and track and field as part of the Hamilton County Special Olympics has won several medals and ribbons over the years for her competitions.
But this one is the biggest.
"We are super proud of Gabby and she is a great representative for the Harrison Wildcats and Hamilton County Special Olympics," says coach Cassie Montgomery, who sent in the nomination for the award presented April 19.
Brock is also a part of the Unified Track team and has participated in Special Olympic State Games, along with the Unified Youth Summit leadership conference.
In the summer of 2018, Brock participated in Youth Leadership Experience at the Special Olympic USA games in Seattle, Washington. This is where her coach saw her grow the most as a young leader.
"Gabby overcame so many obstacles from flying for the first time, interviewing strangers, making new friends and speaking in front of a crowd," says Montgomery. "Her confidence has grown through the support of her family, her hard work at school, and her participation in Special Olympics."
Knowing of the nomination prior to the event Brock prepared her thank you speech "just in case."
"She continues to talk about the awards night, the award, all of the congratulations she is receiving, and getting her picture with Andy Dalton. She brought the award to school to share with others. She is very deserving of this award," Montgomery says.