If only the four teams that tied for first could have played a tournament to break the tie.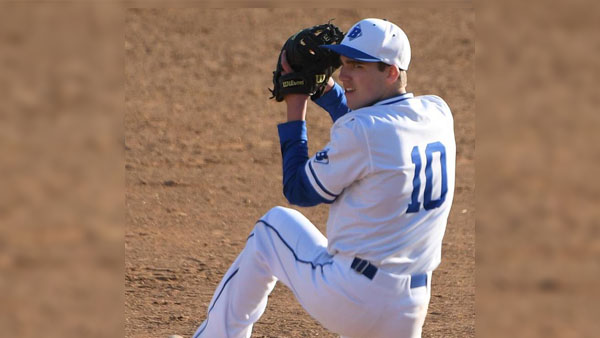 Lane Oesterling is the 2019 EIAC Baseball MVP. Photo by @BatesvilleBB.
(Batesville, Ind.) – The Eastern Indiana Athletic Conference was so good at baseball this season that four teams shared first place.
Batesville, East Central, Franklin County and South Dearborn finished in a four-way tie for the conference championship with identical 9-5 records in EIAC play.
Each team also put five players on the All-Conference Team, including Batesville star and EIAC MVP Lane Oesterling.
Oesterling, an IU Southeast commit, went 7-0 this season with a 0.62 ERA and 60 strikeouts in 45 innings pitched.
Justin Tucker (Batesville), Bob Reynolds (East Central), Derek Stang (Franklin County) and Jay Malott (South Dearborn) shared 2019 EIAC Coach of the Year honors.
The complete list of 2019 All-EIAC Baseball players is below:
Batesville 9-5
Lane Oesterling
Trey Heidlage
Calvin Sherwood
Sam Voegele
Quinn Werner
East Central 9-5
Jack Hutchins
Jared Riehle
Zach Monhollen
Logan Huismann
Simon Williams
Franklin County 9-5
Alex Bischoff
Tommy Ratz
Augustus Runyon
Dalton Durbin
Joe Fields
South Dearborn 9-5
Ethan Getz
Jace Leonard
Tobie Teke
Grant McLane
Reese Willoughby
Lawrenceburg 7-7
Austin Weimer
Peyton Hartman
Connersville 6-8
Colton Massey
Brett Gray
Greensburg 6-8
Cade Reynolds
Cam Adams
Rushville 1-13
Tyler Wilson