Trabel had back-to-back, 30-point double-doubles in her final two games of the season.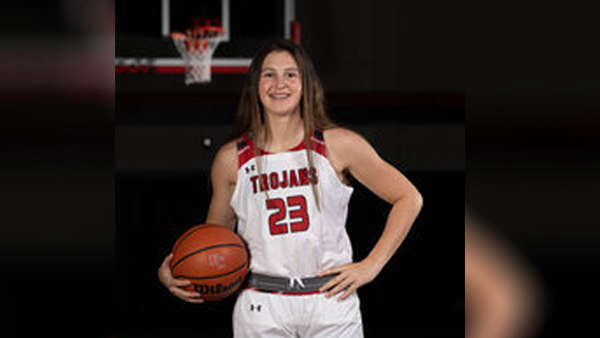 Photo via www.ectrojanbasketball.com.
INDIANAPOLIS – East Central basketball star Josie Trabel has earned another accolade.
Trabel capped off her junior season with back-to-back 30-plus point efforts, earning IBCA District 3 Player of the Week for February 7-12.
On February 8, Trabel put up a career-high 36 points on 15-22 shooting in a 72-67 sectional championship win over Columbus East. Trabel's 36 points tied a school record, previously set by Robin Thiesing during the 1990-91 season.
At the regional, Trabel picked up right where she left off, scoring 31 points in a 78-65 loss to Franklin Community.
The Lady Trojans' junior had a double-double in both games, collecting 21 total rebounds.
While Trabel is being honored with a weekly award, her junior season has been great.
She set team records in single-season points (478), Player Efficiency Rating +/- (868), and Field Goals Made (191).
Trabel also became the all-time leading scorer in program history, passing Allie McCool (1,185 points, 2012-16) with 1,353 points.