Six others from southeastern Indiana also earned All-State honors.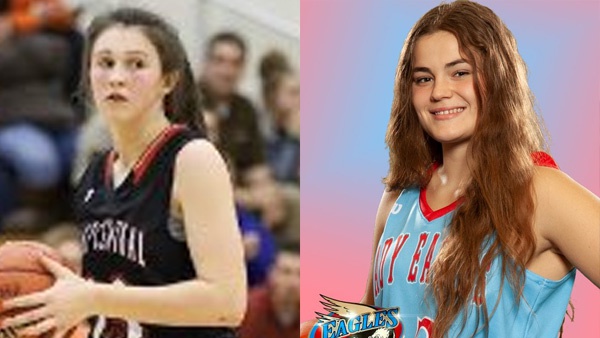 Josie Trabel. Photo by EC Athletics.
(Indianapolis, Ind.) – Several girls high school basketball players have earned All-State honors from the Indiana Basketball Coaches Association.
The IBCA released Wednesday its Top Senior, Top Underclass and Supreme 15 teams for the 2019-20 season.
Locally, East Central freshman Josie Trabel was named to the Large School Underclass All-State Team. Jac-Cen-Del star Paige Ledford earned her way onto the Small School Underclass All-State Team.
Lady Trojans sophomore Hope Fox and Jac-Cen-Del sophomore Annabelle Williams were Underclass Honorable Mention.
Four area seniors were recognized as honorable mention by the IBCA.
They are South Dearborn's Kyrstin Bond, Lawrenceburg's Juliana Kemper, East Central's Brilan McCory and Switzerland County's Aleiah Thomas.
A full list of IBCA All-State honorees can be found at www.igbrrcom.com.
@IBCA_Coaches All-State teams came out today & we'd like to congratulate the following:
Josie Trabel makes 1st Team Underclassmen All-State as a freshman
Soph. Hope Fox makes underclassmen Honorable Mention All-State
Brilan McCory makes Senior All-State Honorable Mention pic.twitter.com/CyP6p7zxBi

— Kevin Moore (@CoachKevinMoore) March 4, 2020
Congratulations Annabelle Williams! @IBCA_Coaches Underclass Small School All-State Honorable Mention! @JCDSports @seilocalsports pic.twitter.com/vTJK6T20pv

— Coach Scott Smith (@basketballzen) March 4, 2020
Congratulations Paige Ledford! @IBCA_Coaches Underclass Small School All-State! Paige was also All-State last season as well! Great Job! @JCDSports @seilocalsports pic.twitter.com/G81Az0V00a

— Coach Scott Smith (@basketballzen) March 4, 2020