East Central's Abby Koch and Batesville's Georgia Gratz lead the 2018 All-EIAC Girls Soccer Team.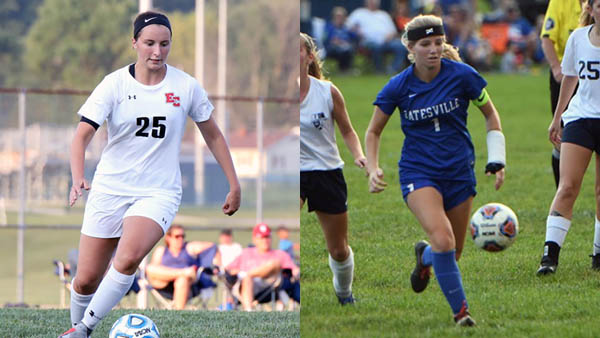 East Central's Abby Koch (left) is the Eastern Indiana Athletic Conference 2018 Girls Soccer Defensive Most Valuable Player. Batesville's Georgia Gratz (right) is the EIAC 2018 Offensive MVP. Photos by Sandy Mahoney and Rich Fowler.
(St. Leon, Ind.) – The Eastern Indiana Athletic Conference girls soccer coaches agree. Batesville High School's Georgia Gratz and East Central's Abby Koch are the biggest difference makers in the conference.
The 2018 EIAC All-Conference girls soccer team was announced Monday. Gratz was voted the conference's Offensive Most Valuable Player. Koch was the Defensive Most Valuable Player.
Gratz, a senior, kicked 18 goals and had 15 assists for the Bulldogs this fall. Four of her goals were game winners for Batesville, which finished 15-3 (6-1 EIAC).
Koch was a defender to be reckoned with on the pitch and was a large reason EC allowed only 108 shots on goal all season. The senior also had two goals scored.
Both Gratz and Koch have been just as good in the classroom as they are on the field. This past October, they were named Academic All-State by the Indiana Soccer Coaches Association.
The conference's girls soccer coach of the year was no surprise in East Central's Bill Volker. He guided the Trojans to an 11-5 record and a conference championship by going 7-0 against EIAC opponents. Volker has won EIAC Coach of the Year in each of his first two seasons as head coach.
East Central's six players on the all-conference team are the most of any school. Batesville had five all-conference players, Lawrenceburg had four and South Dearborn three.
Below is the complete 2018 EIAC Girls Soccer All-Conference Team:
East Central (7-0)
Abby Koch (Defensive Most Valuable Player)
Jenna Ohmer
McKenzie Brown
Hailey Fritz
Meckenzie Hogg
Maggie Ravenna
Batesville (6-1)
Georgia Gratz (Offensive Most Valuable Player)
Carlie Werner
Ellie Cassidy
Hailey Mohr
Liz Heidlage
Lawrenceburg (5-2)
Jenna Farmer
Makenna White
Erin Murphy
Avery Seig
South Dearborn (4-3)
Alyssa McClanahan
Bryanna LaGreca
Erin Huber
Connersville (3-4)
Maddie Gregory
Jessica Beckman
Franklin County (2-5)
Shelby Pearson
Hannah Surber
Greensburg (1-6)
Haley Bockover
Rushville (0-7)
Katlyn Keim
RELATED STORIES: