Stenger is one of two female student-athletes at Hanover College to become an All-American in track & field.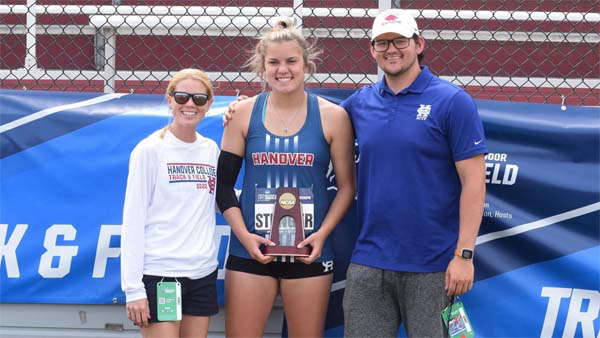 Jessie Stenger (middle). Photo by Hanover Athletics.
(Geneva, Oh.) – It didn't take long for Jessie Stenger to put her name in the record books at Hanover College.
The Hanover College freshman threw her way to All-American status at the NCAA Division III Track and Field Championship last month.
Stenger, a Brookville native and East Central High School graduate, placed eighth in the discus with a throw of 43.28 meters.
Her spot on the podium secured All-American status. Stenger is only the second Hanover Women's Track and Field student-athlete to earn such an honor.
Stenger also placed eighth out of 11 competitors in the shot put with a throw of 12.40 meters.